Uruguay Malvinas Forum will celebrate anniversary blasting March referendum
Friday, February 8th 2013 - 00:19 UTC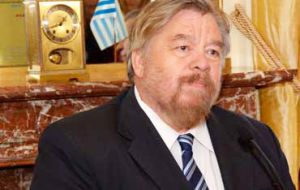 This Friday the Malvinas Forum, chapter Uruguay will be celebrating its first anniversary and is expected to announce a statement strongly rejecting the coming referendum in the Falklands on the Islands political status which is scheduled for March 10/11. The meeting will be held in Maldonado where it was originally launched.
According to the Argentine embassy in Montevideo sponsor of the Forum, the celebration will be attended by Uruguay's Foreign Affairs minister Luis Almagro; Defence minister Eleuterio Fernandez Huidobro and Senator Luis Rosadilla among some of the outstanding local personalities who have confirmed their presence.
Argentine ambassador Dante Dovena said that the document will expose the "theatrical referendum", which is no referendum at all.
"It is like asking people if they like water. Nobody likes water as such but we all need it, thus it is a question which needs not even consideration.
Asking the Islanders if they wish to remain British is obvious they will say yes. That is not the question, the question is that they are illegal settlers on Argentine soil", said Ambassador Dovena.
He added that Argentina does not want to infringe in the "lives of the British people in Malvinas; we want to defend their interests because they are in Argentine territory, but this does not mean we must consent their wish to remain British. This is not in their hands because peoples' self determination refers to indigenous populations and this is an implanted population following an illegal occupation and forcible usurpation, which besides the UN does not recognize".
"At the Forum we have worked hard all year. The Forum is a great help and support from Uruguay because it is a true expression of the Uruguayan people, made up with representatives from all political parties, academics, business people", indicated the Argentine ambassador.
He concluded by arguing that the Forum not only helps Argentina to consolidate its claims over the Malvinas, but also consolidates an international right from South America "to keep our territory for Latinamericans and not for foreign powers".