Uruguayan lawmakers confirm they will travel to Falklands for the referendum
Friday, February 8th 2013 - 04:28 UTC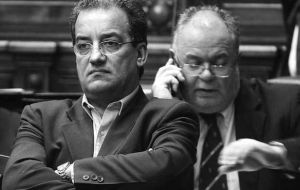 At least two Uruguayan lawmakers have confirmed to the British embassy in Montevideo that they will be travelling to the Falkland Islands next March for the referendum on the Islands political status and future. The trips are financed by the embassy and according to parliament sources in Montevideo the list could become longer.The news was published in a Montevideo weekly.
Jose Carlos Cardoso member of the Lower House and from the main opposition party said he accepted the invitation because he is interested in seeing how the local inhabitants are living the electoral process even when he admits that the referendum "won't legitimize a thing", but is a 'good picture' of what is going on.
Cardoso admitted also his interest in seeing how the Falklands are getting along in other issues such as mining and drilling for hydrocarbons. "I support my (National) party's position in the Malvinas question (siding with Argentina), and my trip is no contradiction. I'm going to see a place I don't know and besides Uruguay has full relations with Britain".
His fellow Deputy, Jaime Trobo desisted from the direct invitation from the British Embassy but accepted to be part of the Canadian delegation and will visit the Falklands as an 'observer'.
Another member of the National party, Mario Silvera has yet to decide, even when his specific group has addressed the issue and opted against officially travelling as observers.
The ruling catch-all coalition, Broad Front, is divided on the issue with at least one member interested in travelling to the Falklands despite his group's position contrary to the referendum and clearly aligned behind Argentina.
However some of its members from the ruling coalition consider that self determination is a supreme right and recall that President Mujica when the Mercosur summit that decided to ban access to all vessels with Falklands' flag, he was also adamant that he would not support any further measure that would infringe the human rights of the local population.
President Mujica adopted the same stance when last year's suspension of Paraguay from Mercosur: he accompanied the suspension, ('sometimes politics is more important than the juridical' he argued) but likewise was point blank against any further measures because "with sanctions the only ones to suffer are the people".
Regarding the junior opposition party, Colorado, split in two groups, a decision is still pending. Although supporting the formality of backing the Argentine claim, historically as government and in practical terms the Colorados always promoted and sponsored links and trade with the Falklands.
Currently the Colorado party does not agree with the Mujica administration's 'soft' strategy towards the aggressive attitude in bilateral issues from the government of President Cristina Fernandez.