Ecuador presidential election turning into a one man race
Saturday, February 9th 2013 - 09:23 UTC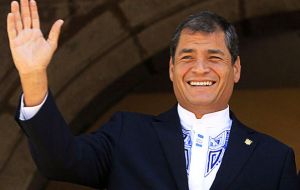 Populist Ecuadorean President Rafael Correa has maintained a huge lead over his nearest opposition rival in the run-up to the Feb. 17 elections, recent polls show. Correa's popularity has remained above 50% throughout his six years in office, buoyed by his personal charisma as well as his government's heavy spending on hospitals, roads and schools.
Leading opposition candidate, Guillermo Lasso, has tried to woo voters by promising lower taxes. Lasso, a former banker, has found support among middle-class voters but has failed to sway many others disenchanted with Correa's policies.
A survey released this week by respected pollster Perfiles de Opinion shows Correa winning almost 62% of the vote versus 9% for Lasso.
"The (opposition) candidates have struggled to put forward attractive campaign proposals to undermine a president that has high popularity rates," said Paulina Recalde, head of Perfiles de Opinion.
Correa also appears to be benefiting from a divided opposition - seven opposition candidates are running in the election - and his party is seen winning a majority of the seats in Congress.
Critics in the OPEC-member nation of 15 million people say Correa has failed to tackle crime and has smothered the private sector by increasing taxes and driving away foreign investors with a 2008 debt default and a forced renegotiation of oil contracts to increase state revenue from the sector.
But the economy is growing and Correa has brought stability to a country where widespread social protests toppled three presidents in the decade before he took office.
"Correa is winning ... He represents a successful cocktail that combines a good administration and a personality that is perceived as honest, kind, and is concerned about the poor," said Santiago Perez, head of pollster Opinion Publica Ecuador.
Perez's latest poll gives Correa 66% support to 15% for Lasso.
"Most of the opposition candidates made the mistake of starting their campaigns too late. They have stepped up the pace but the saturation of advertising is counterproductive" pointed out Perez.
Ciees, a smaller pollster, puts Correa at 56% of the vote, some 36 percentage points more than Lasso.
"Correa has reached a ceiling of between 55% and 60%. Lasso has also reached his peak ... we're almost sure that Correa will win, unless something very strange happens," said Carlos Coronel, head of research at Ciees.
The polls were carried out during the last two weeks.
Pollsters say that instead of putting forward convincing proposals to tackle crime or create jobs, Lasso has focused his campaign on attacking Correa in media interviews.