"Islanders exist: here we are", the toast at Falkland House in London
Saturday, February 9th 2013 - 00:07 UTC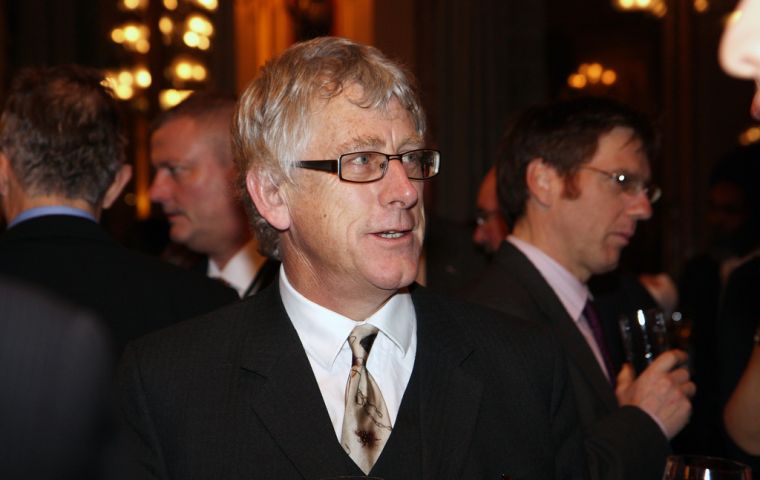 Falkland Islands lawmaker Dick Sawle invited to toast for "the existence of the Islanders" during a reception at Falkland House in London, on Thursday evening, at the end of a hectic but productive week of contacts, interviews and intense lobbying for the Islands and the coming March referendum.

"Islanders exist: here we are" said MLA Sawle raising his glass of champagne at the event with British and foreign journalists, Foreign Office officials, a former governor and friends that were invited to Falkland House hosted by the government's representative in London, Sukey Cameron.

The 'existence' toast was in reply to one of many extravagant statements from Argentine Foreign Minister Hector Timerman several days in London who said that "Falkland Islanders do not exist. They are British citizens living in the Islands".

At the reception Ms Cameron made the presentation of the two booklets: "Our Islands, Our history" and "Our Islands, Our home" which recall the history of the Falklands, early sightings, settlers and the development of the Islands as we know them nowadays particularly after the 1982 conflict when the Argentine military invaded the Islands.

MLA Sawle and MLA Jan Check arrived on Monday to London invited by the Foreign Office hoping to hold a meeting with Foreign Secretary William Hague and Argentine Foreign minister Hector Timerman, who was also in London lobbying for Argentina's case in the Falklands/Malvinas dispute.

The Falklands' representatives were hopeful of a face to face meeting with Timerman to dialogue on issues of common interest (oil, fisheries, communications) and at the same time request that the government of President Cristina Fernandez 'leaves them in peace so that they can get on with their lives"

However the meeting of the Falklands' representatives and Foreign Secretary Hague had to get along with 'an empty chair' since Timerman refused any presence of Islanders since Argentina considers the Malvinas issue 'bilateral'.

But Timerman had time to deny the existence of Falkland Islanders, argue they don't have the right to self determination since they are an implanted population, that Argentina will not accept the result of the referendum ('asking the British if they want to remain British') and that Britain in this time and age remains a colonialist power intent in militarizing the South Atlantic.

Although in a much commented lapsus, Timerman anticipated to the BBC that if negotiations (with UK) continue within the next twenty years the "British Islands" would be de-colonized, (oops, sorry Malvinas Islands).

The rest was a competition for UK media coverage with ample support for the Falklands stance and a degree of disappointment from MPs belonging to the All Party Argentine/UK parliamentarian group that hosted Timerman and his delegation at Westminster, since their only purpose was to talk about Malvinas.

Timerman concluded his lobbying with a two-day 'Argentina-fans' group from 18 different European countries, which called for the resumption of negotiations with the UK for a peaceful solution to the Falklands' sovereignty dispute.