Witnesses of Argentina' major train accident fear for their lives
Thursday, February 14th 2013 - 20:30 UTC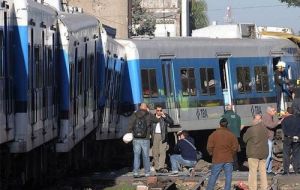 Argentina's Security Secretary Sergio Berni admitted that the sudden murder of Leonardo Andrada, a key witness in last year's major rail tragedy investigation, was "suspicious."
"A full expansion of the investigation needs to take place in order for a clear answer to be found" the government official said in talks with a Buenos Aires radio station in reference to the accident in one of Buenos Aires City busiest train terminal that killed 51 people and left hundreds of injured.
"It is completely suspicious. The Judiciary needs to advance in its investigation and make conclusions on the case" he added.
Andrada, 53, who drove the train part way to the Once terminal the day of the accident that caused 51 deaths on February 22 last year, was brutally murdered a week ago after being shot four times in the back at a bus stop in Ituzaingó, a Buenos Aires suburb.
The attackers stole his mobile phone in the incident, but did not take any of his other belongings, which included a rucksack and over 1.200 Pesos in cash in his pockets.
The Once train tragedy followed by other accidents in Argentina's privatized railway system brought to light the dilapidated state of trains and the risks of travelling by rail in the country.
The heads of the concessions (with excellent political contacts) have argued that no investments or maintenance was possible with frozen rates, even despite the government's subsidies to the transport industry.
However Argentine courts have indicted several former top officials from the current Cristina Fernandez administration and court proceedings are expected to begin in coming weeks.