Brazilian business community demands the country signs trade accords with third countries
Saturday, February 16th 2013 - 20:50 UTC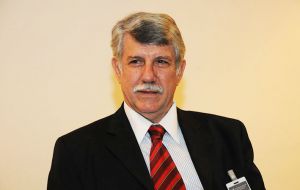 Brazilian businesspeople and diplomats expressed their disappointment with Mercosur and said it was crucial for Brazil to sign free trade agreements on its own with third countries, which under current rules of the South American trade block are not allowed.
"Mercosur is too much self absorbed because is ceased to be a trade agreement and has become an ideological agreement", said Jose Augusto de Castro, president of Brazil's Foreign Trade Association.
Representatives from different manufacturing sectors and agri-business said it was an immediate priority to establish trade agreements with countries or blocks, and criticized the fact that Brasilia was submitted to Mercosur clauses and the extreme positions of Argentina, which "only helps to put obstacles to an agreement with the European Union".
Mercosur and the EU have been in negotiations for a cooperation and free trade agreement since 1999, but talks are again stalled over agriculture subsidies and limited market access for EU manufacturing and services.
Thiago Mason, head of the International Affairs Department from the National Agriculture Confederation considers Brasil has lost to the US which only recently announced it is beginning trade talks with the EU.
Sergio Amaral, a former diplomat and official from the government of ex President Fernando Henrique Cardoso said that "the weight of Mercosur has eased, and is far less important for Brazil" that a few years ago.
"Brazil is Mercosur largest country and if it really wants it can reverse the clause" that limits signing trade accords with third countries but President Dilma Rousseff does not have the political will to do so", said Jose Botafogo Gonzalvez former ambassador in Argentina under the administration of former President Cardoso.
Diplomat Botafogo Gonzalvez considers Brazil must adopt a more aggressive policy in the global market particularly in a moment when Washington is involved in the Pacific basin but has also announced plans to create a free trade area in the Atlantic with Europe.