Correa wins re-election by a landslide turning him into indisputable regional leader
Monday, February 18th 2013 - 06:55 UTC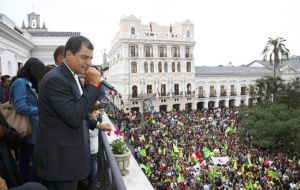 President Rafael Correa swept to a re-election victory on Sunday promising to strengthen state control over Ecuador's economy and continue using booming oil revenues to build roads, hospitals and schools in rural areas and shanty towns.
Correa won 58% of the votes compared with 24% for runner-up Guillermo Lasso, according to preliminary results released by the electoral authority based on almost 40% of the votes counted. Correa was so confident of his victory that he appeared on state TV less than an hour after polls closed.
"Nobody can stop this revolution," a jubilant Correa told supporters from the balcony of the Carondelet presidential palace, after claiming victory. He added "we are making history; we are building our own homeland which is Ecuador and the great homeland which is Latin America."
The populist US-trained economist took power in 2007 and has won strong support among the majority of the population of the country which is poor.
Correa, 49, may now be in line to become Latin America's main anti-American voice and de facto leader of the ALBA bloc of populist governments as Venezuelan President Hugo Chavez has been silenced during his battle with cancer.
Correa said he dedicated his victory to Chavez.
The principal challenge in Correa's new four-year term will be wooing investors needed to boost stagnant oil production and spur the mining industry. A 3.2 billion dollars debt default in 2008 and aggressive oil contract negotiations scared many off.
Critics view Correa as an authoritarian leader who has curbed media freedom and appointed aides to top posts in the judiciary.
But the fractured opposition failed to make a consolidated challenge. It fielded seven candidates, making it easy for Correa, and he is now on track for a decade in office.
That is rare stability in a country where three presidents were pushed from office by coups or street protests in the decade before Correa took power in 2007. He is already the longest-serving president in Ecuador since the return to democracy in the 1970s following a military dictatorship.
Correa's success has hinged in part on high oil prices that allowed for liberal state spending, including boosting cash handouts to 2 million people, and spurred solid economic growth.
He has promised to diversify the economy away from its dependence on oil, in part by bringing in new investment for the mining sector. Despite promising reserves of gold and copper, mining operations have barely gotten off the ground.
In a news conference on Sunday after polls closed, Correa played down the need for more foreign investment. He insisted the ultimate goal was to ensure economic growth rather than "mortgaging" the country to bring in cash from abroad.
"We welcome foreign investment, and we're already getting plenty of it," Correa said. "Ecuador is one of the most successful economies in Latin America."
Ecuadoreans also chose a new Congress on Sunday.
The ruling Alianza Pais party was expected to win a majority in the legislature, which would let Correa push ahead with controversial reforms, including a media law and changes to mining legislation, without having to negotiate with rivals.
The results of the vote for Congress are not expected to be known for several days.