Floater options under consideration for Darwin offshore Falklands development
Monday, February 18th 2013 - 16:55 UTC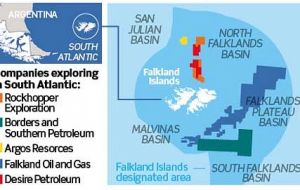 Oil and gas exploration company Borders & Southern, B&S, expects to start work this month on two projects concerning its licenses in the offshore South Falkland basin, reports from London 'Offshore'.
Last April the company discovered gas/condensate with a well on the Darwin prospect. B&S plans to reprocess a 3D seismic survey performed in 2008, and to acquire about 1,100 sq km of new 3D seismic.
Both surveys will be merged to assist with interpretation of key play fairways and maturation of B&S' prospect portfolio. To date it has identified nine Early Cretaceous structures with potential reserves in the range of 120-720 MMbbl recoverable, and various other leads.
Many are within 3-10 km of the Darwin discovery. In addition, there are numerous Late Cretaceous and Tertiary prospects reported.
During 4Q 2012, the company commissioned E&P, part of the ThyssenKrupp Group, to perform a screening feasibility study for development of Darwin East and West.
The conclusion was that both are technically viable as standalone projects, phased, or combined as a parallel development with total production up to 56,000 b/d of condensate. Despite the harsh environment and lack of infrastructure in the Falklands area, development appears feasible using currently proven technology.
The most likely scenario would be sub-sea wells tied back to an FPSO for processing and storage of the condensate with gas re-injected into the reservoir to maximize liquids recovery. Condensate stored on the FPSO could be offloaded to shuttle tankers. Potentially, development could take three years from project sanction to first production.
Capex estimates range from 2.73 billion dollars for Darwin East as a standalone project using a purchased FPSO, to 1.585 billion if the FPSO were leased. A combined Darwin East and West development could cost 3.77 billion with a purchased FPSO, or 2.435 billion if the vessel were leased.
Another study by an independent consultant suggests a 200 MMbbl development would be commercial at an oil price of 65 dollars bbl, while a 100 MMbbl development would require oil price of at least 85 dollars bbl.
The next step for B&S is to prove up recoverable volumes in Darwin via appraisal drilling and to confirm the predicted flow rates with a well test.