Gibraltar and the Falklands referendum: "we are with you every step of the way"
Monday, February 18th 2013 - 17:26 UTC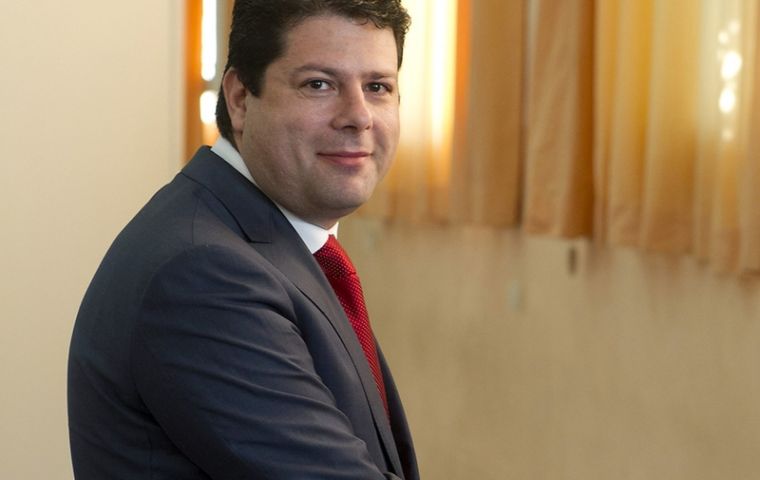 Chief Minister Fabian Picardo has expressed Gibraltar's "unqualified" support for the people of the Falklands in their forthcoming referendum. Picardo's remarks were delivered by Samantha Sacramento last week at the Commonwealth parliamentary Association regional conference in the capital of Stanley in Falklands.
On March 10/11 the Falklands' people will be saying Yes or No to the question: "Do you wish the Falkland Islands to retain their current political status as an Overseas Territory of the United Kingdom?"
The Argentine government has already stated that it considers the referendum "illegal".
In his message to the people of the Falklands Mr Picardo expressed, on behalf of the people of Gibraltar "our best wishes for the landmark referendum this March, our unqualified support and desire to see you forever the free British people of these South Atlantic Islands."
In his speech Mr Picardo reflected on the human rights history of the process that led to the concept of self-determination before the United Nations. He also took a swipe at the clear parallel approach shared by Argentine and Spain in seeking to disqualify the Falklands and Gibraltar respectively from the principle of self-determination and instead project the issue as one purely as one of a breach of their territorial integrity.
In an address entitled 'The human aspect of the right to self-determination – and the need for continued vigilance' Mr Picardo says that "the message of the people of Gibraltar to our brethren in these islands is simple: We are with you every step of the way."
"Counting as you do with the sterling support of the Rt Hon William Hague and the whole United Kingdom, the support of Gibraltar and the Gibraltarians may seem less strategically important - but you know that there is one thing that marks Gibraltarians and Falklanders out; that is that we understand each other and that we know exactly what Mr Churchill meant by the words 'we shall never surrender'."
Mr Picardo recalled that just some five years before ships set sail from Gibraltar for the Falklands war Gibraltar had seen Spain bury its own dictator barely five years previously.
"Argentina would bury its dictatorship as a result of that war. But neither Spain nor Argentina were clever enough to bury their expansionist nationalism with the dictators that exemplified such causes," he said.
"Democratic Spain and Argentina have pursued their claims despite their patently being anti-democratic in doing so. They continue to fail to see how they in effect seek to run rough-shod over our rights - those fundamental human rights the origins of which we have identified originate from the spilt blood of millions - just because nationalistic causes are still peddled with equal traction by the alleged democrats who lead their governments today."
Mr Picardo concluded that "we must assert our rights in referenda but we cannot stop there and we must assert our rights also in international fora and in academia to ensure it is not perniciously stifled". (Gibraltar Chronicle)