Chavez back from Cuba to spend what is left of his life in Venezuela, says independent medical assessment
Tuesday, February 19th 2013 - 05:30 UTC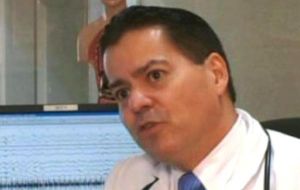 Rafael Marquina the Venezuelan doctor who is famous for giving precise information in his Twitter on the health condition of President Hugo Chavez, on Monday published additional data revealing probably what seems the most rational reason for the leader's return to his home country.
"It's good he is back but unfortunately it indicates that the disease is too advanced and there are no further known effective treatments", said Marquina who resides in Florida. "At this point there are no further curative treatments, just palliatives for the cancer".
"It made no sense for him to remain in Cuba when there were no more treatments to be applied, and in the past all treatments he received were in Cuba, none at all in Venezuela"
"I'm glad he's back at home and my best wishes for Chavez, but facts are facts" said Marquina who has been working in the US for over twenty years but as a visiting professor has close contacts with his fellow Venezuelan doctors.
In mid January Marquina advanced that President Chavez wouldn't survive April since "the cancer continues to advance and it is incompatible with life". His statements were made in Miami to a Peruvian journalist and writer Jaime Bayly.
"He won't make it to April, with a margin of weeks of error and it will be very painful since he is already suffering from respiratory insufficiency. The cancer he is suffering is one of the most painful".
Marquina said that Chavez is conscious but very frail. "He can still manage to talk but with difficulties since he's on oxygen; cancer has continued to advance on his organs".
Although in Venezuela they don't have the necessary medical support Chavez needs and his privacy will be violated at the military hospital, anyhow "when he feels there is no much more that can be done he will return to Venezuela, attempt a final message to his people and then die in peace next to his family".
Marquina also revealed that during the electoral campaign he was kept active with the drug Fentanilo, "which is fifty times stronger than morphine and steroids".
Likewise Marquina said that the alleged official documents with Chavez signature were 'made up' since any patient with over two weeks in hospital has difficulties in writing and signing and "after fifty days his signature" was perfect, 'incredible'.
Finally Marquina expressed solidarity with his fellow doctors who are looking after Chavez. "Imagine under a dictatorial regime (Cuba) Fidel and Raul Castro demanding positive results from my stressed colleagues. I wouldn't want to be in their shoes".