Rousseff says end of poverty is close; 48 million Brazilians registered in social support programs
Thursday, February 21st 2013 - 01:44 UTC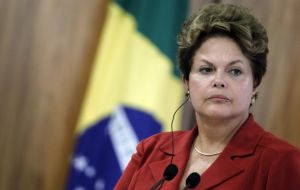 Brazilian President Dilma Rousseff raised the monthly stipend of 2.5 million people living below the poverty line to make good on her promise to eradicate extreme poverty in Brazil. Even when announcing she has almost met her anti-poverty target halfway through her four-year term, Brazil's last census points to 700,000 families who still live in extreme poverty but are not registered on government social programs.
Rousseff raised monthly stipends for the remaining 2.5 million people known to be living below the poverty line, raising their income to 70 Real (35 US dollars) a month through the so-called Bolsa Familia, or Family Grant program.
"We are turning the page on our long history of social exclusion that had perverse roots in slavery," she said after signing the decree authorizing the 800 million Real to fund the program expansion.
There are still extremely poor Brazilians, she acknowledged, but the government does not know who or where they are because they have not signed onto Brazil's national register of social programmes.
"The state will have to go and find them to include them before they come knocking on our door" Rousseff said. "But the most difficult part has been done. Soon there will be no Brazilians steeped in extreme poverty."
While Brazil uses the same definition of extreme poverty as the United Nations — anyone who earns less than 35 dollars a month — critics say that is hardly enough to raise people above the poverty line in a developing country where the cost of living is as high as in wealthy nations.
More than 48 million Brazilians, or one quarter of the population, are registered for the social programs that will cost the federal government 24 billion Real (approx 12bn dollars) this year, including 800 million Real to fund the latest expansion.
President Rousseff's new slogan for improving social conditions in Brazil is: "The end of poverty is just the beginning."
Rousseff said her government will now focus on improving access to public services for poorer Brazilians, extending school hours for their children, and ensuring they have electricity, water, sewers and basic housing.