Brazil/Russia agree to increase trade and cooperation in agriculture and defense
Friday, February 22nd 2013 - 01:22 UTC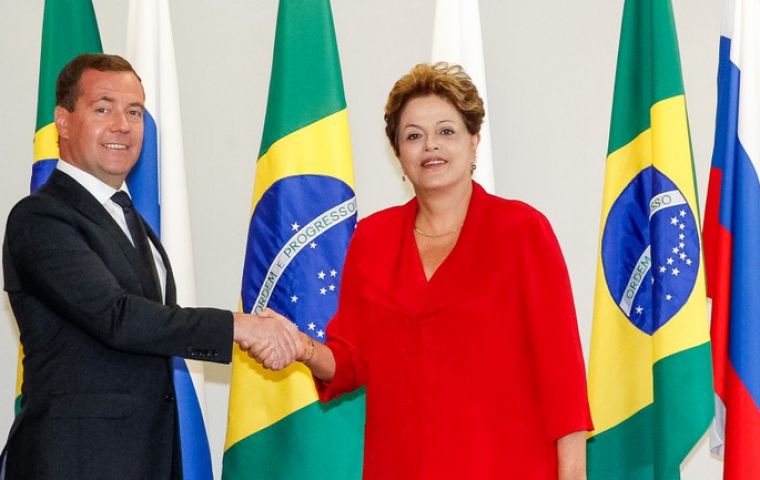 Brazil and Russia signed several agreements in different fields geared to increase trade and to advance in defense, energy and agriculture cooperation, including the purchase of Russian anti aircraft missile batteries on condition that Moscow agrees to transfer technology.
The agreements which include expanding trade from 5.9 billion dollars to 10bn in the next three years were announced after Russian Prime Minister Dmitry Medvedev met with Brazilian President Dilma Rousseff on a visit to Brazil.
Brazil is beefing up its air defenses before the 2014 World Cup soccer tournament and the 2016 Olympic Games to ward off the threat of a terrorist attack during the global sporting events, which will draw massive crowds of foreigners.
Brazil is interested in buying medium-range surface-to-air Pantsir S1 combined missile and artillery batteries and Igla-S shoulder-held missiles, as well as acquiring the technology to build the weapons itself in the future.
Contract negotiations will begin in March, the governments said in a signed statement that called for the effective and unrestricted transfer of technology to Brazilian defense companies. No values were mentioned.
The Chairman of the Joint Chiefs of Staff of the Brazilian Armed Forces, General Jose Carlos de Nardi, said the contract would be signed in three months and the batteries would arrive in Brazil in time for the Olympics, but not the World Cup.
"The Olympic Games are a bigger defense concern because they take place in different locations of one city, while the World Cup is just one stadium in several cities" said General de Nardi.
Russia is the world's second largest arms exporter and a deal with Brazil would largely be seen as a symbolic penetration of the Latin American defence market, after Russia lost some key contracts due to the Arab Spring uprisings in the Middle East.
Medvedev's trip follows a visit by Rousseff to Moscow in December that underlined the importance both countries attach to building relations among the BRICS countries, (Brazil, Russia, India, China and South Africa) which account for one quarter of global GDP and 40% of the world's population. They have become increasingly vocal in criticizing developed nations' hold over international economic policies.
Russia is touting its advanced energy expertise and technology to open business opportunities in Brazil's oil and gas industry. It also hopes to get involved in Brazil's plans to build new nuclear power stations to meet surging demand for electricity that has overwhelmed its generating capacity.
"An energy alliance would benefit our people and our companies," Medvedev said.
Brazilian officials said Medvedev's visit advanced talks to eliminate sanitary hurdles that are slowing Brazil's meat sales to Russia, its largest buyer. Other agriculture issues also conditioned by sanitary hurdles refer to the purchase of Russian wheat by Brazil, a net importer, and the sale of Brazilian soy meal and pork to Russia.
The agreements were subscribed in the framework of the Russian-Brazilian Cooperation Committee general assembly held in Brasilia and which is headed by the Russian Prime Minister and Brazilian Vice-president Michel Temer
As a sign of the two countries drawing closer Brazil on Tuesday became the first country outside Russia to host a monitoring station for the Russian satellite navigation system GLONASS, a global positioning system that uses 24 satellites.
The Brazilian space agency said it will operate the Brazilian component in coordination with the Russian space agency Roscosmos. It is based at the University of Brasilia.
GLONASS is described as a counterpart of the Global Positioning System (GPS) maintained by the United States government. The systems provide Earth location information to people who have a receiver to contact the systems.
Brazilian space agency president Jose Raimundo Coelho said the partnership with Russia will help train Brazilian professionals and improve the accuracy of GLONASS. He said the Russian system could also be used by the University of Brasilia to conduct research.