Comic Beppe Grillo the outsider that has Italy's political system "terrified"
Friday, February 22nd 2013 - 01:58 UTC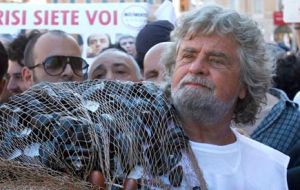 Comic Beppe Grillo, a political newcomer is sending shockwaves to the Italian political system ahead of national elections. Touring the country in a camper van and attracting tens of thousands to his rallies, Grillo has channeled the rage and frustration that Italians feel at the rampant waste and corruption of their political leaders.
"One day they call me a fascist, another communist" says Grillo, but the truth is that "they are attacking me because they are terrified".
Polls taken before a pre-electoral blackout period came into effect on Feb. 9 showed his 5-Star Movement may win about 16% of the vote, more than triple what it polled a year ago, making it Italy's third-biggest political force.
The 5-Star Movement, which is contesting its first general election, has since been the main beneficiary of a wave of corruption scandals that have rocked Italy during the final weeks of the campaign.
The most important issue for undecided voters and those tempted to abstain (almost a third of the 47 million eligible voters in Italy's population of 60 million) is being able to select "clean" candidates, a recent survey said, and the 5-Star Movement's political novices were considered the cleanest.
If the bushy-haired Grillo continues his advance, he will be a force to be reckoned with in parliament, limiting the size of the next government's majority.
Underlining the fear felt by mainstream parties, the Genoese comedian's opponents have stepped up their rhetoric against his movement, branding it a populist threat to stability.
"Grillo is a danger to democracy and also to parliament, where he could paralyze lawmaking," said Berlusconi, whose bid to bring his centre right back to power looks doubtful.
The 5-Star Movement could send about 100 candidates to the 945-seat, two-chamber parliament (620 Deputies and 315 Senators) and has said it will not join alliances with any of the mainstream parties.
Most of the 5-Star candidates are complete newcomers to politics at any level with a quarter from blue-collar jobs.
Grillo himself is not running for election because a manslaughter conviction from a traffic accident in 1981 makes him ineligible under his movement's rule banning candidates with criminal records. He says he is merely 5-Star's "guarantor" and spokesman.
Grillo, who used his fame as a comedian and emerging social media to found the movement three years ago, refuses to appear on TV talk shows - the mainstay of Italian political discourse.
Instead, he gives impromptu interviews after his rallies, and speaks to foreign reporters and radio stations in his camper van, where he tones down the hoarse-voiced ranting that captivate the crowds.
On Saturday, he drew some 30,000 in the northern city of Turin, home to carmaker Fiat, on a frigid evening. Berlusconi's indoor rally in Turin the next day attracted a fraction of that.
On Tuesday, he brought an estimated 35,000 out into Milan's central square, probably slightly more than turned out for the leading centre-left coalition's rally on Sunday.
Critics say Grillo's policy aims - that include increasing Internet access and stopping the construction of a high-speed train link between Italy and France - are vague. But all the main parties are worried and on the offensive.
"We made an ugly discovery about Grillo's candidates," Berlusconi said in Turin. "We discovered that 80% are members of the extreme left."
Centre-left leader Pier Luigi Bersani, on the other hand, had repeatedly warned that all populist movements "inevitably end up on the right".