Monsanto legal battle on Roundup Ready patent expected to reach Brazil Supreme Court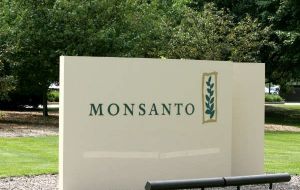 Monsanto Company announced plans to file an immediate appeal of a recent ruling by a single judge of the Brazilian Superior Court of Justice, relating to the company's request for term correction of a patent covering its Roundup Ready soybean product.
The company will move forward with the next phase of the appeals process to secure its intellectual property rights and ensure its business is not disrupted in the country.
Monsanto has previously obtained patent protection in Brazil for its first-generation Roundup Ready soybean products. In accordance with Brazilian law, Monsanto has sought to correct the term of its patent rights in Brazil to conform to the 2014 patent term granted in the United States.
This ruling represents one intermediate step in the ongoing legal process within the country. Monsanto will seek review of that decision by a full panel of judges of the Superior Court of Justice. Additionally, Monsanto has previously filed an appropriate appeal which has been admitted to be heard by the Supreme Court of Brazil. The Supreme Court ultimately will hear and decide the patent term correction.
"We plan to file an immediate appeal with the Superior Court of Justice and look forward ultimately to presenting our case to the Supreme Court of Brazil at a later date," said Todd Rands, Monsanto's Legal Director for Latin America.
The Superior Court judge ruled that the patent was valid until Aug. 31, 2010, two decades after the first filing of the patent in 1990. The ruling is part of an ongoing legal dispute in Brazil.
In late January, Monsanto agreed to waive two years of fees on Roundup Ready soybeans for Brazilian farmers who forgo legal claims in a patent dispute.
Last week the US Supreme Court heard oral arguments in a patent case, Bowman v. Monsanto, which pitted an Indiana farmer against Monsanto. Farmer Vernon Hugh Bowman was sued by Monsanto for allegedly violating the company's patent. A decision is expected in June.