Environmentalists in Argentina manage to suspend Monsanto corn-seed drying facility
Wednesday, February 27th 2013 - 05:38 UTC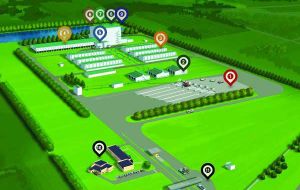 Another setback for Monsanto in South America: the Argentine province of Córdoba justice system ordered the suspension of the construction of a corn seed-drying facility in the district of Malvinas Argentinas, 14 kilometres outside the capital city of Córdoba.
The decision was made by a labour court in Córdoba City, which placed an injunction to halt the application of Order Number 821/2013, granting the firm permission to advance with its construction project.
The court thus accepted the appeal presented by the Argentine Law Foundation Club and counters the ruling by Civil and Commercial Judge Claudia Zalazar, who on January 25 had authorized the beginning of the construction.
Sources in Monsanto claimed that no prior legal warning had been received from the authorities and insisted that an appeal was more than likely.
In the resolution revealed on Monday, Judges Silvia Díaz and Luis Farías highlighted that the precautionary principle which prevailed in the decision was centred on questions of potential "environmental risks."
Consequentially, the works will remain suspended until the fundamental issue leading to the appeal by the Argentine Law Foundation Club and Malvinas Argentinas residents is resolved. The appellants have objected to the constitutional validity of the municipal order granted by Judge Zalazar which allowed for the beginning of a project approved by the provincial Water, Environment and Energy Ministry in September last year.
Through a project notice, the ministry revealed that a facility of some 27 hectares, with similar characteristics to another built by Monsanto in Rojas, Buenos Aires province, would be built in Malvinas Argentinas. According to the firm, prior to the injunction, the plant was expected to be inaugurated in December after a 1.6 billion Pesos investment (approx. 300 million dollars).
In Brazil Monsanto said it was to file an immediate appeal of a recent ruling by a single judge of the Brazilian Superior Court of Justice, relating to the company's request for term correction of a patent covering its Roundup Ready soybean product. The company will move forward with the next phase of the appeals process to secure its intellectual property rights and ensure its business is not disrupted in the country.
Monsanto had previously obtained patent protection in Brazil for its first-generation Roundup Ready soybean products. In accordance with Brazilian law, Monsanto has sought to correct the term of its patent rights in Brazil to conform to the 2014 patent term granted in the United States.