Italy fears knock world stock markets; US recovers on Bernanke' defence of stimuli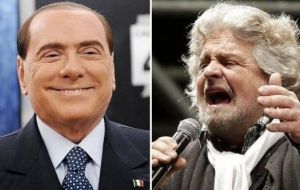 World stock markets and southern European government bonds sank on Tuesday on fears that political stalemate in Italy would leave its economic reforms in tatters and reignite the Euro zone's broader debt crisis.
However, US stocks, which fell in reaction to the Italian election outcome on Monday, hit session highs after Federal Reserve Chairman Ben Bernanke defended the Fed's bond-buying stimulus before Congress and data on new-home sales and consumer confidence was better than expected.
The Dow Jones industrial average rose 125.16 points or 0.91%, to 13,909.33, the S&P 500 gained 10.51 points or 0.71% to 1,498.36 and the Nasdaq Composite added 18.92 points or 0.61% to 3,135.17.
But the uncertainty generated by the Italian poll was still rattling most other major risk asset markets, with Italy's 10-year bond yields, which rise as prices fall, up as much as half a point to 4.90%, the biggest advance since 1993.
Investors also sold Spanish and Portuguese debt and sent Brent crude oil prices down to US$113 barrel, their lowest level in a month, while safe-haven assets like gold and German government bonds rallied.
The uncertainty weighed on European share markets, dragging the pan-European FTSEurofirst 300 index down nearly 1%. London's FTSE 100 was down 1.25%, while Paris's CAC-40 and Frankfurt's DAX were down as much as 1.7%. Italy's FTSE MIB was the hardest hit tumbling 4.9%.
Japan's Nikkei average tumbled 2.3%, its biggest one-day drop in more than a month, as concerns grew that inconclusive elections in Italy could reignite the euro zone debt crisis.
The Nikkei dropped 263.71 points to 11,398.81, retreating from 53-month high hit on Monday after sources said the Japanese government was likely to nominate Asian Development Bank President Haruhiko Kuroda, an advocate of monetary easing, as its next central bank chief.
In Latinamerica losses were extensive: the MSCI was down 1.51%; Brazil's Bovespa, 0.78%; Meixco¡s IPC, 0.17%; Argentina's Merval, 1.56%; Chiles' IPSA, 0.63%; Colombia IGBC, 0.72%, with the only bright spot Peru's IGRA which was up 0.73%.
Election results in Rome showed pre-election favorite Pier Luigi Bersani won the lower house by less than a half a point. Silvio Berlusconi, the former premier who has vowed to reverse austerity measures, won a blocking minority in the Senate. An Italian government requires a majority in both houses.
The group headed by Beppe Grillo, who also opposes crisis-fighting measures got a 25% support. Berlusconi and Grillo scored about 55% of the popular vote which rejects the austerity measures. The result may lead President Giorgio Napolitano to install an interim government to write a new election law as the prelude to another vote.