Argentina urges 'workable' solution from US appeals court to dispute with holdout bondholders
Thursday, February 28th 2013 - 06:13 UTC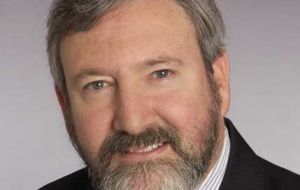 Argentina's defence urged a US appeals court on Wednesday to come up with a "workable" solution to its long-running fight with so-called holdout bondholders, and assured the country will not pay an amount exceeding the one set in the debt-swaps.
"We're trying to persuade the court to do something which is workable and doesn't create a terrible confrontation," the lawyer, Jonathan Blackman, said during oral arguments before the 2nd US Circuit Court of Appeals in New York.
He also said that the country would not "voluntarily obey" an order to pay holdout bondholders in full.
The court is considering a lower court's order that Argentina must pay 1.3 billion dollars to a group of dissident bondholders stemming from the country's 2002 default.
"So the answer is you will not obey any order but the one you propose?" U.S. Circuit Judge Reena Raggi asked Blackman during more than two hours of arguments.
"We would not voluntarily obey such an order," Blackman said. Hernan Lorenzino, Argentina's minister of economy, and Vice President Amado Boudou sat at the counsel table as the lawyer addressed the panel.
Blackman claimed that a lower-court order obliging it to pay the defaulted bonds whenever it makes payments on restructured debt violates its sovereignty, threatens to trigger a new financial crisis and would quadruple the number of Argentine bond cases in New York federal court, rather than resolving them.
"If that's the confrontation the court seeks with the injunctions, that are the court's decision," Blackman said. "We're representing a government and governments will not be told to do things that fundamentally violate their principles," he said.
Holders of defaulted bonds, led by Elliott Management Corp.'s NML Capital Ltd., run by billionaire hedge-fund manager Paul Singer, and Aurelius Capital Management, have won U.S. court judgments recognizing their right to be paid and are asking the appeals court to uphold the lower court to give them the ability to collect the 1.3 billion they say they're owed.
Argentina says a ruling in the creditors' favor would open it up to more than 43 billion in additional claims it can't pay. The country defaulted on a record 95 billion in debt in 2001. Holders of about 91% of the bonds agreed to take new exchange bonds in 2005 and 2010, at a deep discount.
Theodore Olson, in defense of NML Capital and Aurelius Capital argued that Argentina was "never" willing to negotiate and recalled President Cristina Fernandez words "to the vulture funds, not one dollar".
The appeals panel heard arguments from both sides, as well as from lawyers for the Exchange Bondholder's Group, which represents holders of the restructured debt, and for Bank of New York Mellon Corp., the indenture trustee for the restructured bonds. The court may not rule for weeks or months.
Judges expressed doubt about arguments by BNY Mellon that it can't be subject to US District Judge Thomas Griesa's order barring third parties from helping Argentina pay the holders of restructured bonds without also paying the defaulted bondholders. Blocking BNY Mellon is key to the defaulted bondholders' efforts to halt payments on the restructured bonds as a means of forcing payment to them.
"Argentina cannot violate this injunction without participation of the Bank of New York" Olson told the judges. Holders of the defaulted debt are seeking "what they are owed," he said.
The holdout creditors are seeking to uphold rulings by Griesa that require Argentina to pay them the full amount they're owed whenever it makes a required payment to the holders of the exchange bonds. The Exchange Bondholder Group claims the ruling improperly threatens their investment.
"We're innocent parties," attorney David Boies argued for the Exchange Bondholder Group. "I represent people who did what they thought was right. All I'm saying is what they did shouldn't count against them."
Griesa's order shouldn't apply to restructured debt holders, Boies told the panel. The court can't hold them hostage, he said.
"If you allow Judge Griesa's injunction to exist unchanged, everybody in this courtroom knows what's going to happen," Boies argued. "Argentina is going to default."
The appeals court has already affirmed Griesa's ruling that an equal-treatment, or pari passu, clause in the original bond agreements prevents Argentina from treating defaulted bondholders less favorably than exchange bondholders. The appellate court upheld an injunction issued by Griesa that barred Argentina from paying the exchange bondholders without also paying holders of defaulted debt.