Brazil opens naval shipyard to build conventional submarines and eventually a nuclear powered one
Monday, March 4th 2013 - 06:48 UTC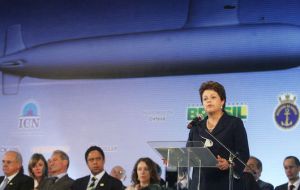 Brazil advanced toward its target of joining the small club of nations that have nuclear-powered submarines with the opening of a naval shipyard installation that will build French-designed submarines.
President Dilma Rousseff inaugurated the factory that will make metal hull structures for four conventional diesel-electric Scorpene attack submarines and eventually a fifth submarine powered by a nuclear reactor developed entirely by Brazil.
She said Brazil, which is Latin America's largest economy was a peaceful country but a defence industry was needed to deter and prevent violent conflict.
"This facility allows our country to affirm itself on the world stage and, above all, develop in an independent sovereign way," Rousseff said.
The submarines will be made by French shipbuilder DCNS in a joint venture with Brazil's Odebrecht at the Brazilian Navy base on Sepetiba Bay south of Rio de Janeiro.
The 7.8 billion Reais (3.95bn dollars) program will turn out the first conventional submarine in 2015 and the nuclear-powered submarine will be commissioned in 2023 and enter operation in 2025, the Brazilian Navy said in a statement.