"Malvinazo" out-blasted in Ushuaia by 'Star Princess' playing "God save the Queen"
Tuesday, March 5th 2013 - 21:15 UTC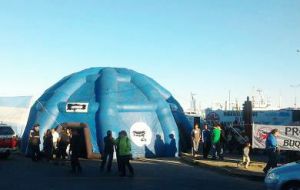 A demonstration by pickets in the Argentine Tierra del Fuego port of Ushuaia protesting the docking of the 'Star Princess' cruise which arrived from the Falkland Islands was contained by local security forces and the blaring of 'God save the Queen'.
The incident took place Sunday afternoon and early Monday and according to the organizers the demonstration, under the heading of "Malvinazo" was targeted not to impede the docking of the vessel, as in previous occasions but rather a "massive protest and exposure of the violation of the so called Gaucho Rivero bill".
The Gaucho Rivero bill which has been passed by several Patagonian provinces bans the calling of red ensign vessels linked to the Falklands' oil industry, but its interpretation by Argentine extremist groups and militants is made extensive to all other vessels particularly the cruise industry given the media coverage and mouth to mouth impact.
However on this occasion the 'Star Princess' did not remain passive and blared through its loud speakers "God save the Queen" at different intervals.
Nevertheless the militant groups managed for several hours to block main accesses to the port of Ushuaia and the exit from the Customs and Migration offices, plus the burning of some banners allusive to the Falklands/Malvinas dispute.
But on Monday through a lateral gate and with the support of over 200 provincial riot police including mounted police and dogs, plus a hundred members from the Coast Guard, port authorities opened the way for the excursion coaches that took the cruise passengers for a local tour.
"Once our protest objective had been accomplished which was not blocking the access to port of the pirate vessel, but rather expose, massively, the violation of the Gaucho Rivero bill, we lifted the pickets and left", said the organizers of the pickets.
"Ushuaia and Rio Grande Malvinas war veterans, university students, dock workers, teachers, government staff, journalists and simple patriots joined us at the over night sit in with pickets", added the organizers who admitted weather was very pleasant which helped attract even more companions that shared "a bite of Patagonian lamb and red wine".
Facundo Armas from Río Grande, 'Chango' Aban dock worker and Flavio Barbieri from Ushuaia attributed themselves the organization of the pickets.
"The event had a great repercussion, and we are proud of making public that the Gaucho Rivero bill is being violated. The struggle to ensure the full enforcement of this law is not only referred to the Malvinas Islands but also to the future of Antarctica, much of it belonging to Argentina, and we are not going to give up. We are well aware it's a long term dispute but we can also be stubborn and audacious" pledged Facundo Armas.
The 109.000 tons Bermudas flagged "Star Princess" belonging to Carnival Cruises was built in Italy in 2002 and can carry 2.590 passengers and a crew of 1.150. She is a regular visitor of the Falklands and south Argentina.