Young Falkland Islanders' voice their views
Tuesday, March 5th 2013 - 19:07 UTC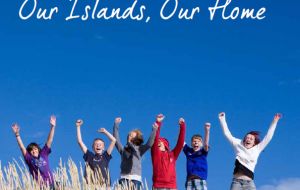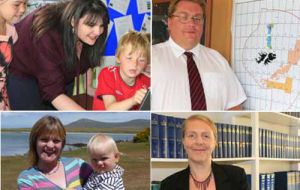 By Harold Briley - Circuited well in advance of their historic referendum on their future, a booklet voicing the views of the post-invasion generation of Islanders is a vital part of the new Falkland Islands campaign to explain their case internationally. In this contribution to the referendum debate, MercoPress takes a more comprehensive look at their attitudes.
The voices and views of the new generation of Islanders are more relevant than others because it is their future which is most at stake in the sovereignty dispute. In a series of persuasive personal articles, ten young adult Islanders say they passionately love their country and want to be left alone to live their lives free of Argentine intimidation.
The young Islanders' booklet is one of two which factually reflect the variety of Falklands' life, their beliefs and their wishes. One booklet, entitled "Our Islands, Our History", relates the facts of the dispute going back centuries. The other, "Our Islands, Our Home" is a modern, up-to-date snapshot of their lives by ten young adults, who were born around the time of the1982 conflict. All highly educated and qualified in a variety of professions, they include a doctor, a lawyer, a teacher, farmers, a fisheries expert and the Government official in charge of oil and gas development.
It is a fascinating focus on their careers and daily life, as only they can describe it, in refreshing contrast to the rhetoric of the politicians. Dedicated to the British armed forces that liberated them, the booklet's introduction says they owe the success of today's Falkland Islands to their sacrifice. Here, is who the young Islanders are and what they say:
Lee Molkenbuhr, sheep shearing contractor and farmer at Johnson's Harbour, whose father, Claude, helped the task force by transporting troops and ammunition. After international training and work in several countries, Lee trains young Islanders in the skills of sheep-shearing. He is married and much travelled but says: "I have come home as it has a safe and free environment in which to bring up a family. The future seems to look good for the Islands".
Doctor Rebecca Edwards, daughter of a nurse and a naval officer who fought in 1982. Both became Falklands Legislative Councillors, as did Rebecca's sister, Emma. Mother of three, Rebecca, is the first woman Islander to become a doctor after training at University College, London. In such an isolated community, her work embraces accident and emergency, hospital duties, and being an obstetrician, paediatrician and a flying doctor. Her husband, Christopher Lee, and his brother run Port Howard sheep farm where she says her children live an idyllic life. "I hope and pray my children's children will still be living in West Falkland in all its beauty and safely and most importantly free from the aggressive neighbour, Argentina…I pray that Argentina will wake up and realise that we are not going to vanish or give in to their bullying and that they accept us as a nation of people in our own right, choosing to live the life we want…and that we will see the Falklands and Argentina living peacefully and respectfully, side by side".
Georgina Strange, conservationist, photographer, and manager of New Island Nature Reserve, run by a charity trust created by her father, Ian Strange, a renowned wildlife artist. Her mother is an Argentine who, Georgina says, is "proud to call the Falklands her home". Georgina's work is centred on environmental research and eco-tourism in the "incredible wildness" of New Island. Her travels and work abroad remind her how special the Falklands are – "a wild and free place where the wind roars and the open skies go one forever, a place of close-knit community and life-long friendships that is truly unique". She feels very privileged to have grown up there. She loves "everything" about the Islands and would change "nothing".
Ben Cockwell, an artist and designer, married and living at Fox Bay where he runs a printing and embroidery business with his sister, Kerry, a business begun by his mother and his father, Richard, branded a "trouble-maker by the Argentine invaders. "Whatever our generation has made of our lives", Ben says, "is only possible thanks to the action by the British Government and to the efforts and sacrifices by the British forces that fought for our freedom. I will always remember that and be grateful".
Ros Cheek, Principal Crown Counsel and legal adviser to the Government, living in Stanley with her partner. Her father, John Cheek, was a Legislative Councillor, who led the UK campaign providing accurate information and boosting Islander morale in radio broadcasts during the 1982 conflict. Ros is grateful for her education and for the stability the British presence provides. She pursues a public service career in return for that education. She says: "My childhood gave me a sense and understanding of our community and environment which formed the basis for my passion for the Islands. She condemns "the continued, unwarranted, egotistical aggression" from Argentina and says "the best way to honour those who fought and died for our freedom is to forge a future where the Islands flourish economically and mature as a democracy". She hopes one day the sacrifices of 1982 "will be truly honoured by international recognition of our right to self-determination".
Ian Betts, a plumber, who coaches the Stanley football team and plays in the cricket teams which both compete internationally. His father, George Betts, was captain of the Falkland supply ship Monsunen commandeered by the Argentine forces in 1982. Ian, who qualified in the UK, is passionate about his role as a sergeant in the Falkland Islands Defence Force, in which his brother also serves. He says: "I am proud to be a Falkland Islander and to be British. I would want to play a part in the defence of the Falkland Islands".
Lucinda May, a married teacher in Stanley Infant and Junior School. Her father, Patrick Watts, was honoured for his courageous newscasts as Director of Falklands Broadcasting during the invasion and occupation. She enjoyed an "idyllic and carefree childhood" in the Islands and trained in the UK for ten years to become a highly qualified teacher. "I always knew my real home was the Falklands", she says. "My ambition was to repay the Falklands government which funded my university education and also to motivate and encourage other young Islanders to achieve their potential". The sacrifice of the British servicemen was an inspiration which ensured a more positive and secure future and made her determined to succeed.
Paul Phillips runs an East Falklands farm with his wife, Shula, and daughter Bekka. His six-year-old daughter is taught by travelling teachers. His father, Terence ferried troops and ammunition with his tractor for the Battle of Mount Longdon. He continues his family's 150- year tradition of sheep farming, expanding to include cattle and meat production for Stanley's modern abattoir. "Farming has never been in a better position", he says. "We firmly believe we have a great future and remain committed to living off the land we own".
Stephen Luxton occupies the crucial post of Director of Mineral Resources, having previously served as a Legislative Councillor. He was deported in 1982 by the Argentines with his mother and his father, Bill, who championed the Falklands cause in the UK in radio broadcasts. Stephen is married and lives near Stanley. He describes oil and gas development as a "quantum leap" for the economy and for future revenues. It must be correctly controlled as a safe and thorough exploitation in the national interest, with local businesses involved. With a Geology honours degree from a UK university, he says "there is nowhere else in the world which offers the same blend of quality of life or career or business opportunities as the Falklands which has a great future despite the political threat from Argentina".
James Wallace, married with a young family, is the European representative in Amsterdam of Fortuna, a leading fishing company. It was founded and is managed by his father, Stuart, who was in the Falklands Defence Force in 1982, regarded by the Argentines as a trouble-maker and sent with his Argentine wife, Lilian, and their children to Fox Bay East. James' responsibilities cover Northern and Eastern Europe, the United States and Asia, posing exceptional logistics challenges. He says "the reliance of the economy on the fishery resource makes conservation and rational use matters of national importance… giving greater economic relevance to preserving fish stocks". With its modern methods and high quality scientific research, the Falklands fishery is internationally recognised as one of the best managed in the world, dynamic and fast-paced. Its advancement and expansion brings him great personal satisfaction.
The booklet demonstrates how the younger generation has progressed since the conflict, amassing impressive qualifications and skills to contribute to community life and prosperity. Ahead of the referendum, they say in the booklet's introduction: "We choose to retain our links with the United Kingdom. We are proud of our identity and heritage. We also celebrate our diversity".
It is the younger generation whose future is vulnerable in the dispute with Argentina, where a parallel generation is still coming to terms with the harsh effects of the military dictatorship, most of whose leaders have been tried and jailed for human rights crimes. Only now are three hundred young Argentines learning to their horror that they were farmed out for adoption among the military after their pregnant mothers were kidnapped, tortured and murdered.
Harold Briley (OBE), London