Iberia strike cancels 1.300 flights; further industrial action planned for Easter Week
Wednesday, March 6th 2013 - 11:47 UTC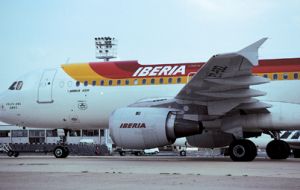 Unions at Spain's flagship airline Iberia began a second week of strikes on Monday, with 1.300 flights canceled and most passengers re-assigned to other flights. Iberia and three smaller airlines that it provides with ground services -- Iberia Express, Vueling and Air Nostrum --- have been impacted by the action, an Iberia spokesman said.
Cabin crews, pilots and ground staff are protesting Iberia's plans for 3,800 layoffs, about 19% of the staff, and salary cuts for the remaining workers.
Iberia, which merged with British Airlines in 2011, has been trying to reduce its losses, which exceeded 350 million dollars last year. The strike began February 18, running from Monday to Friday, and Iberia said it lost about 19 million that week.
It expects to lose another 19 million during the second week of industrial action. A third week of strike is set to start on March 18.
However Iberia said it found seats elsewhere for 95% of the 40.000 customers due to be affected by the strike, as a UK union warned against using pilots at sister unit British Airways to break the action.
Iberia has rebooked 38.000 passengers with other carriers flying the same day after scrapping 431 services, or 39% of its schedule, through March 8. The other 2,000 can change departure date or receive a refund, the airline said.
Iberia plans to operate 85% of long-haul flights, 47% of domestic services and 62% of other short-haul trips during the second of three strikes over 3,807 job losses. The British Airline Pilots Association said in a statement that the cuts are disproportionate and that Chief Executive Officer Willie Walsh mustn't seek to involve crews at British Airways.
Negotiations between the airline and the unions have stalled, despite Spanish government pressure and the appointment of a mediator. Unions are now threatening to extend the strike to the lucrative Easter Week, which they had previously said would be off limits.
"There could be a strike during Easter Week and there could be an indefinite strike every Monday and Friday," Manuel Atienza, of the General Workers Union (UGT), told CNN on Monday. "Those are among the possibilities being considered."
"Balpa is seriously concerned that Iberia's inability to secure support amongst its own employees for its restructuring plans will engulf the Spanish flag carrier in industrial turmoil for months," the union said. "Balpa stresses that it will resist any management move to draw BA pilots into Iberia operations."