Brazilian military regime supported financially Chilean dictator Pinochet
Thursday, March 7th 2013 - 11:17 UTC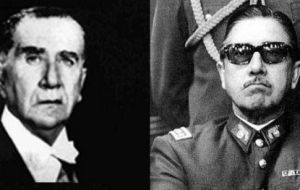 Recently uncovered government documents reveal that former Chilean dictator Augusto Pinochet received 115 million dollars of support from the Brazilian military government during the 1970s.
The Brazilian newspaper Folha de Sao Paulo published evidence Tuesday of the financial support in a series of recently released documents from the country's military regime that spanned from 1964 until 1985. The documents were part of a slew of declassified papers released in 2011.
Folha reports that the loan was intended for military equipment and was cited as "important help" to the Pinochet dictatorship. The first 40 million dollars instalment was authorized a year after the 1973 military coup that ousted elected Socialist President Salvador Allende.
Two other instalments followed, 25 million in 1975 and then an additional 50 million as requested by the Chilean ambassador to Brazil.
The classified documentation of the loan became available after Brazilian President Dilma Rousseff signed an access to information law in 2011. While collusion between the Chilean and Brazilian regimes has already been documented, this is the first time specific amounts have been disclosed.
By Elizabeth Trovall - The Santiago Times