A woman is commander of RAF Search and Rescue Force over UK and Falklands
Saturday, March 9th 2013 - 05:10 UTC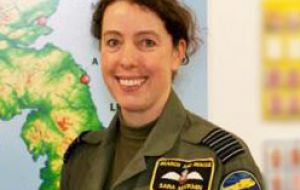 In recognition of International Women's Day on 8 March the British Armed Forces profiled Group Captain Sara Mackmin who is the new commander of the RAF Search and Rescue Force with responsibility over the UK and the Falkland Islands.
The appointment of high-flying 44-year-old Group Captain Sara Mackmin is the latest groundbreaking move in a career that has seen her achieve a number of firsts in the Royal Air Force.
After serving in the Balkans flying Puma helicopters she became the UK's first female helicopter instructor and in 2000 was the first female to command an operational flying unit as a squadron leader.
In 2008 she repeated the feat as a Wing Commander.
Speaking after her RAF Search and Rescue Force appointment Group Captain Mackmin said she was delighted "to be asked to command a force that makes a real difference to people's lives on a daily basis and to be able to work with such a dedicated and professional cadre of people, both military and civilian".
She takes up the position as the UK military prepares to transfer the search and rescue service to the Department of Transport.
"I am in no doubt about the challenges ahead as we prepare to transfer the UK's search and rescue service to a new provider and look forward to helping ensure a smooth transition", said Group Captain Mackmin who has served 3 staff tours with MOD and worked as the personal staff officer to the Assistant Chief of the Air Staff.
As well as being a search and rescue pilot, she also volunteers with the RAF's mountain rescue teams.