Iran's Ahmadinejad received a standing ovation at Chavez emotional funeral
Saturday, March 9th 2013 - 05:30 UTC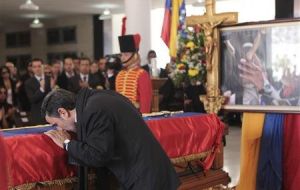 Iran's Mahmoud Ahmadinejad and Cuba's Raul Castro joined on Friday about thirty other heads of state at Hugo Chávez's funeral in an emotional farewell to the charismatic Venezuelan leader who during his fourteen years in office had a major impact on South American politics.
Chávez died this week aged 58 after a two-year battle with cancer, devastating millions of mostly poor supporters who loved him for putting the country's vast oil wealth at their service.
A frequent visitor to Caracas and fellow "anti-imperialist," Ahmadinejad received a standing ovation as he took his place in a guard of honour by Chávez' coffin, then broke protocol to touch and kiss the casket and clench his fist in a revolutionary salute.
"It's as if the world has come together around Hugo Chávez," said Venezuelan Foreign Minister Elias Jaua. "His voice and his thoughts reached far beyond our shores."
Chávez's preferred successor and acting president, Nicolás Maduro, laid a replica of the sword of 19th century independence leader Simón Bolivar on top of the coffin, which was draped in the country's red, yellow and blue flag.
A singer in a cowboy hat serenaded the mourners with music from Chávez's birthplace in Venezuela's "llanos" plains.
The late president's body is to be embalmed and shown "for eternity" - similar to how Communist leaders Lenin and Mao were treated after their deaths.
His remains will lie in state for an extra seven days to accommodate the millions of Venezuelans who still want to pay their last respects to a man whom will be remembered as a most colourful and controversial populist leaders.
Huge crowds of "Chavistas" gathered from before dawn for the ceremony at a military academy where his body was lying in state. Many were dressed in the red of the ruling Socialist Party, carrying his picture and waving Venezuelan flags.
More than 2 million people have filed past the casket since Wednesday, many sobbing, some saluting, and others crossing themselves.
In Caracas were most of Chávez' highest-profile Latin American friends, such as Ecuadorean President Rafael Correa, Bolivia's Evo Morales and Brazil's former leader, Luiz Inacio Lula da Silva.
"Most importantly, he left undefeated," Castro said, referring to Chávez's four presidential election wins, among a string of other ballot victories in his 14-year rule.
"He was invincible. He left victorious and no one can take that away. It is fixed in history."
Celebrity mourners included US civil rights leader Reverend Jesse Jackson, Sr., who led a prayer at the service, Oscar-winning US actor and director Sean Penn, and renowned conductor Gustavo Dudamel.
Dudamel, who heads Venezuela's Simón Bolivar Symphony Orchestra and the Los Angeles Philharmonic, led musicians at the funeral playing classical numbers including the national anthem.
Belarusian President Alexander Lukashenko and Ahmadinejad were among the more controversial figures. Ahmadinejad has caused a storm back home for saying Chávez would be resurrected alongside Jesus Christ and a "hidden" imam who Shi'ite Muslims believe will rise up to bring world peace.