Iberia back in the air: unions accept sacking of 3.141 staff and salary cuts
Friday, March 15th 2013 - 06:50 UTC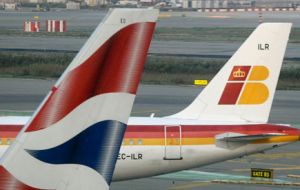 Workers of Spanish airline Iberia called off further strikes in a dispute over thousands of job cuts after unions accepted a mediation plan, the company announced in a statement.
"Iberia and the union representatives of 93% of the staff have agreed to accept and implement the proposal of the mediator Gregorio Tudela with respect to the viability plan for the company" said the statement.
Ground and flight staff had threatened to strike from March 18 to 22, after two similar strikes that caused thousands of flights to be cancelled, in protest at plans to cut 3.807 jobs.
But the airline said that strike would be called off after workers accepted proposals to reduce the number of jobs cuts to 3.141 improve the severance payments and lighten salary cuts.
The striking workers had denounced the restructuring plan by International Airlines Group, the holding company set up for Iberia and British Airways, after the two merged in 2011.
They accused IAG of trying to dismantle the pride of Spanish civil aviation for the benefit of BA. IAG had agreed to the deal on Monday.
Iberia executives say the airline accumulated 850 million Euros (1.1bn dollars) in losses between 2008 and September 2012.
In a bid to stem the red ink, the Spanish airline plans to slash its network capacity by 15% and downsize its fleet by 25 aircraft, including five long-haul jets, by the middle of this year.
In recession-hit Spain with unemployment at 26% and climbing, Iberia is one of the country's top 35 companies planning to cut 35.000 jobs in the first half of this year.