Mining project suspension in Mendoza leading to major clash between Argentina and Brazil
Saturday, March 16th 2013 - 07:28 UTC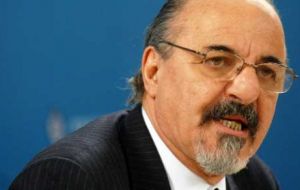 A major conflict could be brewing between Argentina and Brazil after Rio's Vale decided to cancel a 6 billion dollars potash development project in Mendoza and the Argentine Labour minister issued a mandatory conciliation which actually impedes implementation of the closing down decision.
Labour Minister Carlos Tomada announced on Friday during a press conference that it has issued a mandatory conciliation over Brazilian mining giant Vale.
The conciliation's first part will last until April 11, and bans the Brazilian mining company from firing its employees and return their jobs to those who have already been fired.
Another powerful member of cabinet Federal Planning Minister Julio De Vido also assured that the Brazilian company did not fulfil the Mining Investment Law, which grants benefits that will not be able to be given once the project is suspended.
Vale reported on Monday that it had suspended the 6 billion dollars Río Colorado potash project in Mendoza province which also included a railway to a new port for overseas shipments.
The mining, main producer of iron, had halted the work on the project back in December, awaiting tax breaks for the project to help to compensate for soaring costs related to inflation, exchange rate and demands from labour and provincial governments.
Vale reported that it "has pulled out of the Río Colorado project, taking into account that under the current macro-economic context, the economic basis of the project is not aligned with Vale's commitment".
On Wednesday Minister De Vido warned that if the company fails to resume work it will strip the company of the mining licences.
"If they don't exploit it, they will lose the license," De Vido said in televised comments from the presidential palace. "There is a blatant violation of the concession."
"Their demands have nothing to do with Argentina's macroeconomic conditions and everything to do with their financial losses and scaling back of projects worldwide," De Vido said. "Vale wanted to pay its losses with our money."