Rousseff reshuffles cabinet but leaves Mantega and economic team intact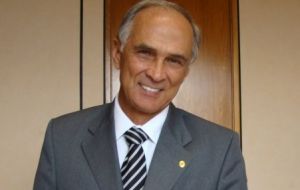 Brazilian President Dilma Rousseff appointed on Friday new ministers for agriculture, civil aviation and labour, the presidential office said, in a Cabinet shuffle that left her economic team intact.
Congressman Antonio Andrade from Minas Gerais state was named Agriculture minister, replacing Mendes Ribeiro, who is recovering from brain tumour surgery. Both men belong to the PMDB, Brazil's largest political party and Rousseff's main ally in her unwieldy 17-party governing coalition.
Minas Gerais after Sao Paulo and Rio do Janeiro is one of the most influential electoral states in Brazil and lawmaker Andrade was being lured by Senator Aecio Neves, from MG, most probably the main rival of Rousseff in the next presidential election.
Moreira Franco, until now secretary of strategic affairs, was moved to the civil aviation portfolio, replacing Wagner Bittencourt.
That switch came after criticism of last year's auction of private concessions to run three major airports, including the country's largest in Sao Paulo, which drew smaller and less experienced consortia than the government had hoped for.
Manoel Dias, the secretary general of the PDT party, a minor coalition partner and the party where Rousseff began her political career, will move to the Labour Ministry, replacing Brizola Neto from Rousseff's Workers' Party known by its acronym PT.
Despite her government's failure to restore solid growth to Brazil's once-booming economy, which grew by a disappointing 0.9% last year, Rousseff did not make changes to the economic team headed by Finance Minister Guido Mantega.
Other Cabinet changes are in the works, and Rousseff is expected to name an ally to the newly created ministry of small and micro businesses.
Rousseff, whose approval rating is in the high 70s, plans to run for re-election in 2014 and Cabinet appointments provide an opportunity to appease coalition allies jostling for government posts.