Pope Francis meets Cristina Fernandez; 150 world leaders expected for Tuesday's ceremony
Monday, March 18th 2013 - 08:33 UTC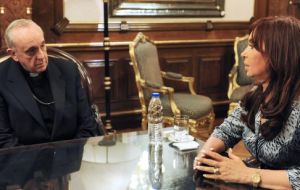 The Vatican Press Office has announced that Pope Francis will meet Argentine President Cristina Fernández on Monday at 8.50 AM Buenos Aires time. It will be the first official meeting the pontiff holds with a head of state.
At the Santa Marta House, where former Argentine cardinal Mario Bergoglio is to remain till he moves to the Apostolic Palace, the newly elected Pope will receive Cristina Fernández who arrived on Sunday to Rome to take part in the inauguration mass of Francis' papacy to take place on Tuesday.
According to the Vatican, around 150 head of states and government will attend the historic ceremony with the first non-European pope in modern times to become the head of the Roman Catholic Church.
Cardinal Jorge Marido Bergoglio and the Argentine president Cristina Fernandez and previously her deceased husband and former president Nestor Kirchner, did not have a fluid relation since the former archbishop of Buenos Aires was particularly critical about the growth of poverty and expansion of corruption in Argentina.
They clashed on several occasions and Cristina Fernandez tried to avoid contact with Bergoglio to the extent the official mass on national festivities started to be held in the provinces outside of Buenos Aires and the metropolitan cathedral.
The Argentine presidency says that the president and the Pope will share lunch, however the Vatican only mentions an audience. Apparently the meeting had been requested by Argentine diplomacy immediately after Bergoglio was made Pope and following a release from Government House putting aside the confrontation style and praising the fact that for the first time in history a Latinamerican had become bishop of Rome.
Ambassador before the Vatican Juan Pablo Cafiero started the contacts and was joined later in the week by Foreign minister Hector Timerman.
In Buenos Aires the Archbishopric held a conference Sunday afternoon to confirm the agenda marking the beginning of Pope Francis' papacy with a live broadcasting at the Plaza de Mayo announced for next Tuesday. Likewise Buenos Aires City announced there will not be classes at schools that day.
The Archbishopric also called devoted Catholics to obey a three-day prayer and gratitude actions as from Sunday which took off at 11.30 AM and presided over by apostolic nuncio to Argentina Emil Paul Tscherrig.
The religious group Youngsters for all God's people has called on a vigil for Monday at 20.30 PM that will last all night.
On Tuesday at 4AM, a march from the Buenos Aires Metropolitan Cathedral to the Obelisk will end with a live giant screen broadcast from Rome to follow the papal ceremony.
By noon, all bells of the BA City Archdiocese will peal for ten minutes "greeting the new and dear Saint Father Francis from its place of origin" as the entity's official statement reads.