Uruguayan economy expanded between 3% and 3.5% last year says Central bank
Monday, March 18th 2013 - 20:36 UTC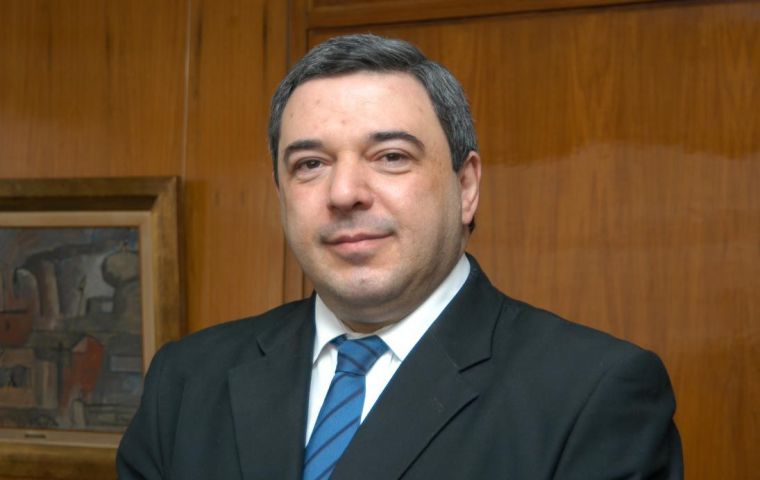 The Uruguayan economy expanded between 3% and 3.5% last year which is below the 5.7% of 2011, mostly because of a serious drought and a deteriorating world situation, advanced the country's Central bank president Mario Bergara.
The top official also mentioned some of the trade barriers implemented by Argentina which slowed and limited bilateral trade with Uruguay and with no certain prospects of changes in the near future.
"I would say that growth last year was in the range of 3% to 3.5%", said Bergara in the framework of the Inter American Bank annual assembly held in Panama. The estimate is below the original target of the Uruguayan government which was betting on 4% expansion in 2012.
"Nevertheless we consider it is a more than acceptable growth rate given the international context and Uruguay's own economic history", which has a long term average below that index. The Central bank is expected to release the official figures on GDP expansion next March 27.
Despite the strong and sustained growth of the Uruguayan economy since 2003, the central bank has come under continuous criticism for its policy of 'mismanaging the massive influx of funds' which has made the Uruguayan Peso an extremely strong currency with an impact on exports and domestic costs.
The Central bank has a reference rate of 9.25%, the highest in the region, supposedly to curb domestic credit, which keeps attracting an influx of foreign capital. The bank is then forced to absorb the additional liquidity by issuing indexed short term paper that further attract more capital at an enormous cost to the bank.
An idea of the phenomenon is the fact the bank had earmarked some 600 million dollars to absorb liquidity, curb inflation and prop the US dollar to help exporters, but so far in the two and half months of this year it has already invested 550 million dollars.
The central bank's approach has divided the ruling Broad Front coalition which in effect now has two parallel economic teams, the formal one in the figures of the Economy minister Fernando Lorenzo and banker Bergara led by Vice President Danilo Astori who are more orthodox in their approach and to not favour 'changing the rules of the game".
However on the other side is President Jose Mujica with the head of the Budget and Planning Office plus advisors who believe windfall earnings of the farming sector should be taxed, thus helping to balance the budget, absorb liquidity and prop the US currency which is the standard for exports.