Venezuela plays the 'US interference card' suspends dialogue with Washington
Thursday, March 21st 2013 - 06:30 UTC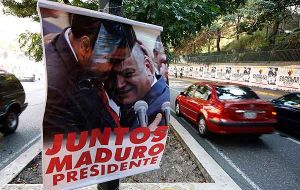 The Venezuelan government said on Wednesday it has suspended a "channel of communications" with Washington as it escalates tension and polarizes public opinion ahead of elections to replace the late president Hugo Chavez.
Foreign Minister Elias Jaua said the move was a response to "interventionist statements" by US Assistant Secretary of State Roberta Jacobson, who called for "open, fair and transparent" elections on April 14.
"This channel of communication is suspended at this time, deferred until there is a clear message on what type of relationship the United States wants with Venezuela," Jaua said. "It makes no sense to continue wasting time," he added.
Venezuela's acting president Nicolas Maduro is running against opposition leader Henrique Capriles, who lost to Chavez in October elections. Capriles will likely also face an uphill battle against Maduro.
Chavez, who dominated Venezuela during his fourteen years of power, died of cancer on March 5 after a long illness that unsettled the political landscape.
Maduro said in January that he had had contacts with Washington in late 2012 through the Venezuelan ambassador at the Organization of American States, which he said were authorized by Chavez.
"Let's hope they rectify, let's hope the interference in internal affairs ceases," said Jaua, who added, however, that diplomatic and consular affairs would remain at their current level.
Venezuela and the United States have not exchanged ambassadors since 2010, and are represented in their respective capitals only by charge d'affairs. Tensions between the two countries have been rising since the day of Chavez's death, when Maduro announced the expulsion of two US military attaches.
Washington reciprocated by expelling two Venezuelan diplomats who were decorated on Wednesday by Jaua.
Maduro on Tuesday called on US President Barack Obama to stop an alleged conspiracy by former US diplomats Roger Noriega and Otto Reich to destabilize Venezuela by assassinating Capriles.
Jaua claimed that Noriega and Reich were "recruiting mercenaries" in Central America to carry out the plot against the opposition leader. Reich, a former US ambassador to Venezuela, denied any involvement in the alleged plot, denouncing it as "Maduro's latest lie."
Capriles himself dismissed the accusations as a "smoke screen."
The two countries have been at odds since Chavez came to power in 1999 even though Venezuela, among the world's largest oil exporters, ships 900.000 barrels a day to the United States a day.