Timerman denies any Argentine government plot to discredit election of Francis
Saturday, March 23rd 2013 - 10:55 UTC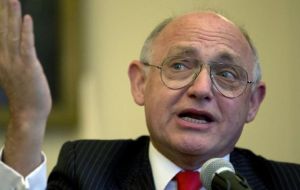 Foreign Minister Héctor Timerman rejected allegations about an alleged "discrediting operation" by Argentina's ambassador to the Vatican Juan Pablo Cafiero to stop the election of former Buenos Aires city archbishop Jorge Mario Bergoglio as the new pope and denied that the government has changed its opinion about now Francis.
"We have never changed our position towards the Pope. We thought we had to take part in something that is a great honour to Argentineans and a great thrill for those of us who are believers," Timerman pointed out.
His statements come after certain opposition sectors accused Kirchnerite officials and political leaders of "changing" their opinion towards Bergoglio following his appointment to head the Roman Catholic Church.
In that sense, Timerman rejected the opposition's claims and stressed the significance of having a Latin America pontiff "who for the first time in the history of Christianity will sit in the Chair of Saint Peter," an event he considered "will essentially change the relation of the Church with our people."
For the head or Argentina's diplomacy, currently in Washington to attend an OAS meeting, media versions about ambassador Cafiero's alleged plot against the election of Bergoglio as pope are a "vile trick".
"Accusing the government of Argentina and a man as Juan Pablo Cafiero, with his career and the respect he has for his job, (that he) pretended to change the decision of 117 cardinals from the whole world with a report that we allegedly wrote is a vile trick," the Foreign Minister assured.
The Italian media reported during the process for the election of the pope to succeed Benedict XVI that the Argentine government (but did not mention ambassador Cafiero) was involved in the distribution of a short profile of Cardinal Bergoglio among some of his peers, (as it had done eight years ago in the previous Vatican conclave when he was the second most voted) questioning his alleged 'passive' attitude during the last military dictatorship.
Furthermore some of the more radical and militant references of the Kirchnerite arch, such as the Mothers of Plaza de Mayo in the person of chairwoman Hebe de Bonafini as well as the picket leader Luis D'Elía, both of them admirers of many succumbed dictators actually used insulting language to refer to the newly elected Pope.
Even Cristina Fernandez' first reaction to the first Argentine born pope was rather cold and distant: "We hope Pope Francis will be able to achieve a larger degree of fraternity between the people of the world and we also hope he can achieve a meaningful task for the region".
Likewise, "let's hope he will send a message to the great powers so they will engage in dialogue. That he will manage to talk those wielding the power, those who have weapons and financial might, into looking at the emerging countries and promote civilized dialogue".