Paraguayan president visits Spain and the OAS where he has ample support
Monday, April 1st 2013 - 10:08 UTC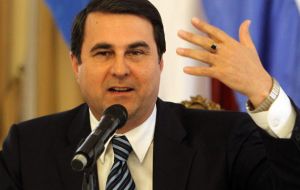 Paraguay's president Federico Franco has arrived in Madrid, a special guest of his peer Mariano Rajoy with whom he will be holding talks at the Moncloa Palace. Rajoy is particularly interested in showing his support for President Franco and Paraguay that have been suspended from Mercosur and Unasur because of the removal by Congress, following political impeachment of Fernando Lugo.
Mercosur and Unasur described Lugo' removal last June as a 'congressional coup' but the Organization of American States accepted the new situation which was done according to constitutional procedure. The European Union, particularly Spain, UK and Germany recognized the new political situation.
Last year Spain hosted the Ibero-American summit in Cadiz but had to yield to Mercosur (Brazil, Argentina, Paraguay and Venezuela) which threatened not to attend if President Franco turned up.
The current invitation is seen as a compensation for the dishonour imposed on Franco whose term is up next August, following this month's presidential election scheduled of 15 April. Franco steps down from office on concluding the four years of Lugo which is on August 15.
This month's elections and the process leading to ballot day and results, are being monitored by observers from the European Union and the OAS, plus 'followers' from Unasur, given the strained relations.
Following his visit to Spain on April 3 President Franco travels to Washington to address the OAS Council with a report on the political, economic and social situation of Paraguay.
Since Paraguay was suspended from Mercosur, trade negotiations between the South American group and the European Union have been suspended.
Rajoy and Franco despite the Mercosur suspension have had a fluid dialogue: the two leaders met when the mass for Pope Francis coronation last month in the Vatican and on 25 September 2012, when the UN General Assembly.