Falklands' shipping company improves reefer box service and storage capacity
Tuesday, April 2nd 2013 - 20:50 UTC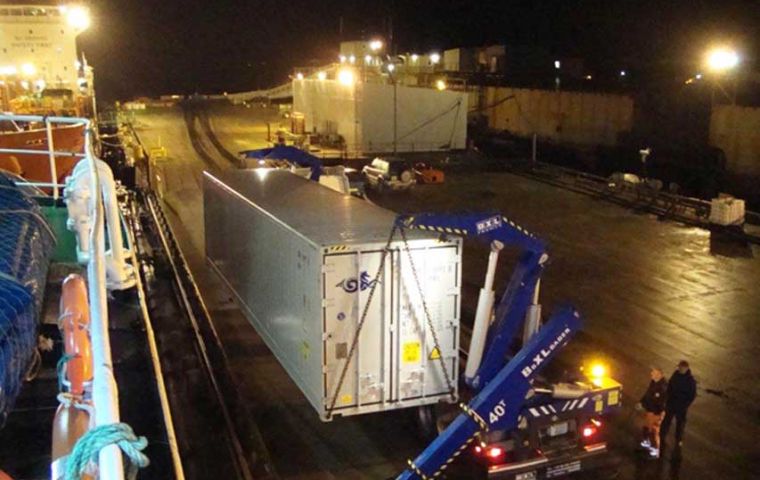 The Falkland Islands shipping company South American Atlantic Services Ltd (SAAS) has turned a "nightmare," into a going concern and is now over-target on imports, Director Hamish Wylie told customers and other invited guests at a reception at the SAAS offices in Stanley last week.
The shipping company that has suffered years of interference from Argentina, resulting in containers being held up, plus ongoing difficulties, "with carriers," have launched a, "new model," in terms of dealing with the issues they have faced.
This new approach has included dealing with the lack of yard space, being able to work on Stanley's facilities FIPASS and the need for equipment, said Mr Wylie.
He said the company had now reached the stage where nearly all of the issues had been addressed and they now are able to "provide a service to its customers," that offered a good price and was reliable and competitive.
SAAS Manager Eugene Hurly confirmed to Penguin News that the company will have 300 reefer boxes in total. The new ones arrived on March 17.
Mr Hurly said the reefer boxes "will be used by the meat and fish exporters and for the import of fresh and frozen products. The regular containers are used for import and export of all other goods."
Mr Wylie also noted that the Falkland Islands Government (providers of the container park) and SAAS shareholders had given their full support and a great deal of money and effort to the company; one crucial for both the fishing and the agriculture industry.
He paid tribute to Mr Hurley who he said understood the industry and as such was able to guide customers. (PN).-