Falklands will 'forever remember' Baroness Thatcher for having liberated the Islands
Monday, April 8th 2013 - 14:14 UTC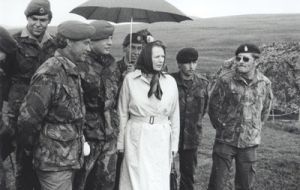 The Falkland Islands government expressed great sadness at the news of the death of Baroness Thatcher on Monday. The brief message from Gilbert House was signed by MLA Mike Summers on behalf of the Legislative Assembly of the Falklands.
"It is with great sadness that we received news of the death of Baroness Thatcher this morning.
She will be forever remembered in the Islands for her decisiveness in sending a task force to liberate our home following the Argentine invasion in 1982.
Our sincere gratitude was demonstrated in 1983 when she was granted the Freedom of the Falkland Islands.
Her friendship and support will be sorely missed, and we will always be thankful for all that she did for us. The thoughts and deepest sympathies of all Falkland Islanders are with her family and friends at this sad time".