Iron Lady will receive ceremonial funeral with military honours at St Paul's Cathedral
Monday, April 8th 2013 - 14:42 UTC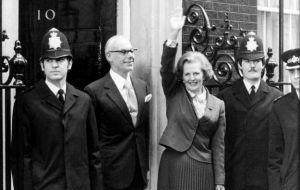 Prime Minister David Cameron's office announced that Lady Thatcher who died on Monday will receive a Ceremonial funeral with military honours at St Paul's Cathedral. No date has been given and further details will be released over the next few days. However on her family's wishes it will not be a full state funeral.
"A wide and diverse range of people and groups with connections to Lady Thatcher will be invited," Prime Minister David Cameron's office said in a statement.
"The service will be followed by a private cremation. All the arrangements being put in place are in line with wishes of Lady Thatcher's family".
In his first reactions to the death of Baroness Thatcher, PM Cameron said "it was with great sadness that l learned of Lady Thatcher's death. We've lost a great leader, a great Prime Minister and a great Briton".
"As our first woman Prime Minister, Margaret Thatcher succeeded against all the odds, and the real thing about Margaret Thatcher is that she didn't just lead our country, she saved our country. I believe she'll go down as the greatest British peacetime Prime Minister."
Finally Cameron said that "today most of all we should think of her family. We've lost somebody great in our public life but they've lost a much loved mother and grandmother and we should think of them today."