Latam's major defence fair opens in Brazil with 700 companies from 48 countries
Tuesday, April 9th 2013 - 06:58 UTC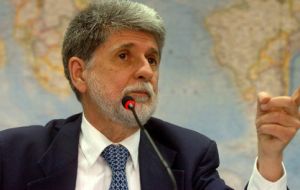 Delegations from 65 countries some of them including Defence ministers will be attending the opening on Tuesday in Rio do Janeiro of the International Defence and Security Fair, (LAAD), the largest show of military equipment in Latin America.
The almost 30.000 visitors expected at the Riocentro convention centre for the ninth edition of LAAD, among which 300 official delegates will be able to appreciate the latest products and systems at the stands representing 700 companies from 48 countries among which such giants as Boeing, Saab, Embraer, Rosoboronexport, according to the organizers.
The number of stands in the four-day show is greater than in 2011 (663), following on decisions from countries such as Canada, Chile, Arab Emirates, Colombia, Slovakia and Norway to put up their own pavilions with their home representatives.
The fair will be opened by Defence minister Celso Amorim who will also be holding meetings with his peers from Argentina, Ukraine, South Africa and Slovakia as well as the British Defence minister Andrew Murrison and Pedro Argüelles Spain's Secretary of State for Defence.
Amorim is to take advantage of the LAAD ninth edition to have UNASUR members (Union of South American Nations) sign the Consulting Committee Project Statute with the intention of jointly developing and building a training fighter plane.
LAAD which this year covers a show area of 60.000 sq metres brings together every two years Brazilian and international corporations specialized in equipments, services and technologies for Armed Forces and law enforcement corps.
Brazil's Embrear, one of the companies with the greatest display at LAAD, also has plans to present blueprints for different versions of the KC-390 heavy duty transport that can be transformed for fire fighting, air tanker and search and rescue missions.
According to the Brazilian Defence ministry, LAAD participants will have an opportunity to get in touch with state of the art technologies for military, air and space, naval, communications and information and public security operations such as armoured vehicles, drones, avionics and integrated command systems for the protection of aircraft.