Margaret Thatcher, one of the great champions of freedom and liberty, said Obama
Tuesday, April 9th 2013 - 07:17 UTC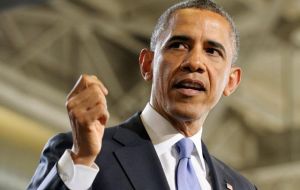 President Barack Obama has said that with the passing of Baroness Margaret Thatcher the world has lost one of the great champions of freedom and liberty and the US a true friend.
The message also referred to the Iron Lady's humble beginnings but also her determination to restore the confidence and pride that has always been the hallmark of Britain at its best.
The brief release says that "as a grocer's daughter who rose to become Britain's first female prime minister, she stands as an example to our daughters that there is no glass ceiling that can't be shattered.
"As prime minister, she helped restore the confidence and pride that has always been the hallmark of Britain at its best. And as an unapologetic supporter of our transatlantic alliance, she knew that with strength and resolve we could win the Cold War and extend freedom's promises.
"Here in America many of us will never forget the standing shoulder to shoulder with President Ronald Reagan, reminding the world that we are not simply carried along by the currents of history, we can shape them with moral conviction, unyielding courage and iron will.
"Michelle and I sent our thoughts to the Thatcher family and the British people as we carry on the work to which she dedicated her life: free peoples standing together, determined to write our own history".
Likewise Secretary of State John Kerry said millions across the UK and around the world joined in mourning the loss of Margaret Thatcher and celebrating her life.
"The United States has lost a dear friend, and the world has lost a transformative leader who broke the glass ceiling in global politics. With her characteristic determination, she defined grit on the world stage and grace in the face of advancing age and illness.
"Lady Thatcher took the helm of government amid tumultuous times. She would face wars abroad, terrorism at home, and deep uncertainty about the United Kingdom's future. She met all these challenges and many others with unyielding drive and courage.
"We celebrate especially the way, with a hand outstretched across the Atlantic, Lady Thatcher strengthened the Special Relationship between the United States and the United Kingdom—a relationship that remains a driving force for freedom, justice, and democracy.
"In 1985, when I was a newly sworn Senator, Prime Minister Thatcher spoke to our Congress. The threat of a Soviet Empire she warned against has given way to a new set of global challenges, but our alliance with the United Kingdom remains an unrivalled source of strength in today's challenges from Afghanistan to Syria", concluded Secretary of State Kerry.