Uruguay becomes second Latam country to legalize gay marriage
Thursday, April 11th 2013 - 02:26 UTC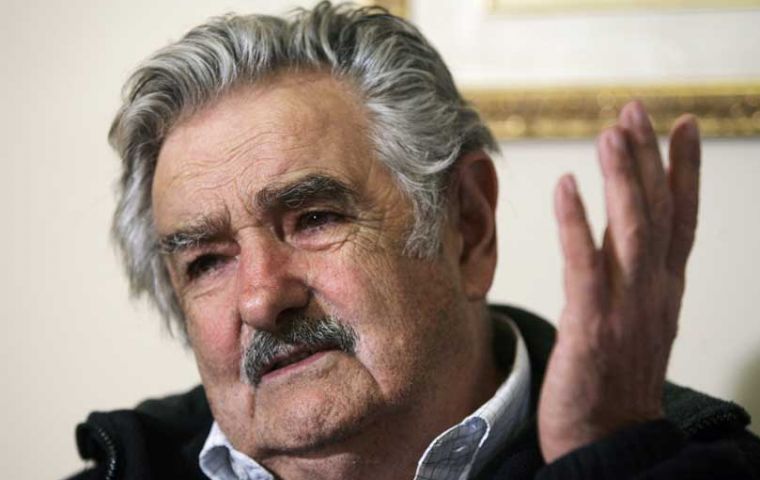 The Uruguayan parliament voted overwhelmingly to legalise gay marriage, becoming the second country in Latin America to do so, after Argentina. The bill was approved by more than two-thirds of the lower chamber, despite opposition from the Catholic Church.
When the final vote was taken on Wednesday evening, the galleries exploded in singing and applause for several minutes as people embraced and chanted 'freedom, freedom'.
The proposal has already been backed by the upper house in 23 to 8 vote. It is expected to be signed into law within two weeks. President Jose Mujica has been championing the bill and has argued that "same-sex couples have always existed".
In Argentina, the push to legalize same-sex marriage met with fierce opposition from the Roman Catholic Church, with Cardinal Jorge Mario Bergoglio -- then the archbishop of Buenos Aires and now Pope Francis -- engaging in a notorious war of words with the government over the issue.
In Uruguay, the church has taken a similar tack, with officials describing the measure as a harsh blow to the institutions of marriage and the family.
"Why make relative or devalue an institution that is already so injured, like the family, introducing deep modifications that are going to confuse more than clarify?" said Pablo Galimberti bishop of the northern city of Salto.
Uruguay's ruling Broad Front coalition sponsored the bill and last the group's president stressed that the proposed law changes a civil institution and has nothing to do with the church.
"Here we are speaking about RIGHTS, with capital letters. Rights that were denied and repressed for a long time, and which a society that is trying to be modern and inclusive necessarily must recognize, to advance in equality" wrote Senator Monica Xavier.
"Rights that are inherent to people, that are not a legislative creation, but something that the law must recognize."
In 2009, Uruguay was the first Latin American country to allow same sex-couples to adopt children. It was also one the first Latin American countries to allow same-sex civil unions.
The measure approved by Uruguayan lawmakers Wednesday removes the words "man" and "woman" from the country's civil code and replaces them with the word "spouse".
The bill also allows same-sex couples to choose the order of the surnames of the children they adopt. And it increases the age of consent for sexual relations to 16, from the current 12 for women and 14 for men.
In Argentina legalised gay marriage in 2010 and same-sex marriages have been legal in Mexico City since 2009. In May, Brazil's Supreme Court voted overwhelmingly in favour of allowing same-sex couples the same legal rights as married heterosexuals.