Brazil and the US upgrading diplomatic ties and thinking in more bilateral trade
Friday, April 12th 2013 - 05:59 UTC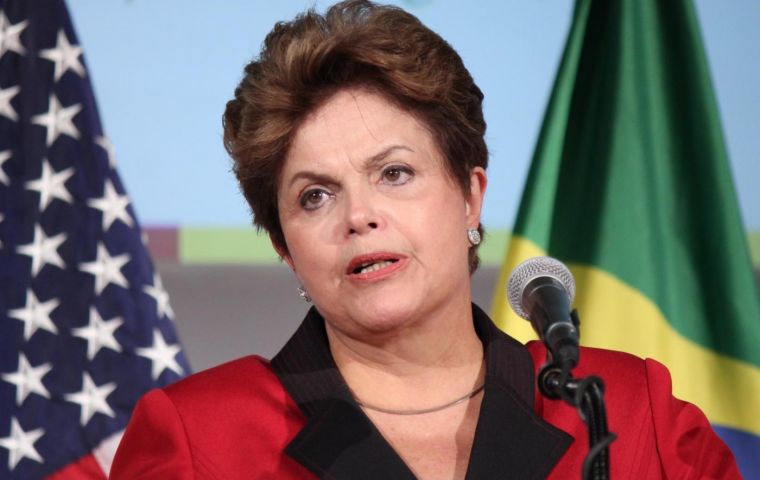 President Dilma Rousseff will make the first formal state visit by a Brazilian leader to the United States in nearly two decades, according to Reuters' news agency. The trip allegedly will occur later this year likely in October, officials said on condition of anonymity because the White House has not yet announced the visit.
A state visit, which includes formalities such as a black-tie dinner and a military ceremony upon arrival, is usually reserved for Washington's closest strategic partners.
The upgrade in diplomatic ties is likely to rekindle hopes for a long-sought treaty to avoid double taxation on Brazilian and US businesses, as well as the chance for greater commerce between the two largest economies in the Americas.
Bilateral trade totalled about 59 billion dollars last year, but Brazil's economy remains relatively closed to imports and its 200 million-strong population is seen as a big potential growth market for US companies.
Washington is also concerned about the advance of China in the region where it has become the main trading partner of several countries, including Brazil and Pacific countries, displacing the US from that privileged position.
The red-carpet reception also will be a political victory for Rousseff, a left-leaning but pragmatic leader who has sought closer relations with the United States but felt snubbed when President Barack Obama did not host a more elaborate welcome during a White House visit in April 2012.
Relations have been cordial, but marked by disagreements.
Latin America's biggest country has been frustrated by a perceived lack of support from Washington as it seeks a permanent seat on the United Nations Security Council and other recognition of its rising influence following an economic boom over the past decade.
Rousseff's predecessor, Lula da Silva, angered Washington by blocking hemispheric trade talks and trying to broker a deal to end the global standoff over Iran's nuclear program in 2010, the final year of his presidency.
Rousseff, by contrast, has mostly avoided dealing with Iran, more strongly emphasized human rights in Brazil's foreign relations and also taken a relative distance from Venezuela, Washington's loudest antagonist in Latin America.
The last Brazilian president to make a state visit to the United States was Fernando Henrique Cardoso, in 1995.