Maduro pledges he will be elected president and later 'president' of Mercosur
Friday, April 12th 2013 - 06:54 UTC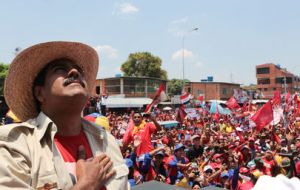 In his closing massive campaign rally in Caracas, Thursday evening incumbent candidate Nicolas Maduro pledged that next Sunday he will win the Venezuelan presidential election and later will take over the presidency of Mercosur.
"Brazil and Argentina have ratified their support to our country and after winning Sunday's election on Sunday I will also be president of Mercosur", promised Maduro during his campaign final speech to a crowd dressed in the Chavista red colours and estimated in over half a million.
All along his speech, Maduro with a straw hat and the bird nesting (supposed to represent the spirit of deceased leader Hugo Chavez) centred his speech on the achievements and the legend of who anointed him as his successor.
One of the highlights was a video when Chavez announces that in the event of his physical disappearance, "elect Maduro as president".
Maduro said his government program will concentrate in four main points: fighting insecurity; death to corruption; micro missions to repair hospitals and schools and controlling inflation, currently running at 20%.
Next June when the twice a year Mercosur summit, and following alphabetical order, Venezuela will hold the chair of the trade block for the second half of 2013. The elected Venezuelan president will be participating in the Mercosur summit planned to take place in Montevideo when the group's pro-tempore presidency will take place and handed to Venezuela.
After the formal request presented by then President Hugo Chavez in 2006, Venezuela was finally incorporated as a full member of Mercosur last July.