Bird flu reaches Beijing; first case outside east China which has reported 51 infections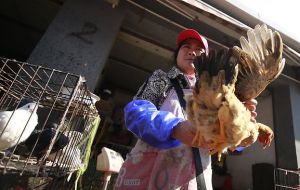 Chinese capital Beijing reported on Saturday its first case of a new strain of bird flu, state news agency Xinhua said, the first time it has been found in a human outside of eastern China.
The seven-year-old child is in a stable condition in a Beijing hospital, the report said. Two people who have had close contact with the child have shown no signs of being infected so far, Xinhua added.
A total of 11 people have died of the H7N9 bird flu strain since it was confirmed in humans for the first time last month, with 44 infections in all having been reported to date.
Shanghai and the eastern provinces of Zhejiang, Jiangsu and Anhui had been the only confirmed locations of infection until the Beijing case.
The source of infection remains unknown, though samples have tested positive in some birds in poultry markets that remain the focus of investigations by China and the UN Food and Agriculture Organization, FAO.
The new virus has caused severe illness in most of the people affected leading to fears that if it becomes easily transmissible it could cause a deadly influenza pandemic, though there has been no indication of that happening.
In a bid to calm public jitters over the virus, Chinese authorities have detained a dozen people for spreading rumours about the spread of bird flu.
Meanwhile the World Health Organizations, WHO, said that China's National Health and Family Planning Commission notified of an additional two laboratory-confirmed cases of human infection with influenza A(H7N9) virus from Henan.
The first patient is a 34-year-old man who became ill on 6 April 2013, and the second patient is a 65-year-old man who became ill on 8 April 2013.
Investigations into the possible sources of infection and reservoirs of the virus are ongoing. Until the source of infection has been identified, it is expected that there will be further cases of human infection with the virus in China. So far, there is no evidence of ongoing human-to-human transmission.
WHO does not advise special screening at points of entry with regard to this event, nor does it recommend that any travel or trade restrictions be applied