Latam countries in OAS recognized Maduro as Venezuela's elected president
Wednesday, April 17th 2013 - 23:49 UTC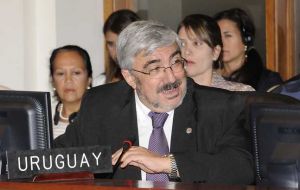 Representatives from several Latinamerican and Caribbean countries before the Organization of American States recognized on Wednesday Nicolas Maduro as elected president of Venezuela. Nicaragua, Argentina, Brazil, Colombia, Dominican Republic, Uruguay among others congratulated the new head of state and praised the Venezuelan people for their massive and peaceful turnout last Sunday for the historic voting day.
They also called for peace, tolerance and an end to all acts of violence from all sides, which erupted following opposition candidate Henrique Capriles statement that the election result had been too close to call (1.7% difference) and demanded a recount of votes before accepting Maduro as elected president. Until then he is "an illegitimate president", sentenced Capriles.
Capriles called on his followers to take to the streets to protest banging pots and pans and for Wednesday evening had planned a demonstration before the offices of the National Electoral Council. However the march was suspended since violence on Monday and early Tuesday left seven people killed and hundreds of injured and arrests.
The Venezuelan government also called on its supporters and militants to celebrate Sunday's victory and defend the 'Bolivarian revolution and the legacy of Hugo Chavez".
The opposition candidate argues that there were too many irregularities committed and reported in voting booths on Sunday and demands a manual recount of all votes since the 255.000 ballots out of 15 million casts, can sway the final result to any of the two sides.
The Electoral Council said it had audited 54% of ballots and their respective voting slips, which it considered sufficient, while international followers of the electoral process did not report incidents or suspicious actions.
Uruguay's ambassador before the OAS Milton Romani reiterated the support and commitment of the regional trade block to the elected Venezuelan president and called on all sides to respect democratic principles and the results of the election.
Likewise Haiti in the name of Caribbean Community made a similar statement in support and recognition of President Maduro, and said it expected calm and dialogue to return to the streets of Caracas.
The Venezuelan representation before OAS thanked the strong support and solidarity from other Latinamerican and Caribbean countries, defended the work and transparency of the electoral process and the Electoral Council and called on the opposition to cease its acts of aggression.
The OAS officially and according to the words of its Secretary General Jose Miguel Insulza, following Sunday's ballot and Maduro's proclamation on Monday, said the organization was waiting for a recount of votes, as requested by the Venezuelan opposition before extending its formal congratulations to acting president Maduro.