OAS and UN sign cooperation agreement for demining in Colombia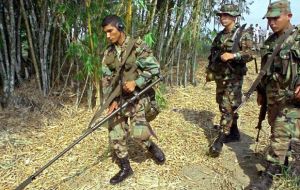 The Organization of American States singed a cooperation agreement with the United Nations for Humanitarian Mine Action Activities in Colombia, a country were virtually tens of thousands of explosives have been planted during the several decades' long internal conflict.

OAS General Coordinator for the Comprehensive Action against Antipersonnel Mines, Carl Case, and the Director of UNMAS, (UN Mine Aciton Service) Agnes Marcaillou, signed the agreement, which aims to increase collaboration between the two entities in order to reinforce their activities in mine action in Colombia, as well as strengthening the capacity of the Presidential Program for Integral Action against Antipersonnel Mines (PAICMA), the National Mine Action Authority (NMAA), and also the broader mine action sector.

Regarding humanitarian demining in Colombia, the OAS has been designated by the National Authority to be responsible for all components of quality management, including accreditation of humanitarian demining operators, quality assurance and quality control monitoring, and post-clearance inspections.

As requested by the government of Colombia, UNMAS provides technical advice to PAICMA and the National Authority in the establishment of the required regulatory, technical and operational framework including the development of National Mine Action Standards in accordance with International Mine Action Standards (IMAS).

This agreement is based on the sharing of experiences and expertise, and seeks to benefit Colombia, as well as both organizations at the strategic and technical levels. It constitutes a supplementary agreement settled under the general framework of the Cooperation Agreement of the Secretariat of the United Nations and the General Secretariat of the Organization of American States, dated 17 April 1995.