Argentina begins Washington round of contacts ahead of IMF-WB spring meeting
Friday, April 19th 2013 - 05:46 UTC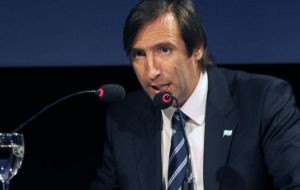 Argentine Economy Minister Hernán Lorenzino is in Washington ready to start his official activities in the margins of the 2013 International Monetary Fund and World Bank Spring meeting.
Lorenzino will be explaining Argentina's new price index that the government of Cristina Fernandez has been working on –the IMF renewed its claims against official inflation and GDP growth data this week- but taking also to the fore some of the government's top priorities: the dispute with hedge ('vulture') funds and the resolution of debt mechanisms for countries hit by crisis.
The head of Argentina's economic affairs is expected also to put on the table of the IMF and the WB the need to control credit rating agencies and derivatives market, to promote investment in infrastructure and to apply labour and social inclusion policies in nations facing recession.
As part of his agenda, Lorenzino will hold meetings with IMF representatives, G20 and G24 ministers among other bilateral reunions.
Argentina's main strategy at the IMF-WB Spring gathering is to draw forth its battle against 'vulture' funds -that President Cristina Fernández has considered a global threat in the present context of global turmoil and Europe's debt crisis-, and agencies such as Moody or Standard and Poor's.
Such issues will be addressed on Friday at the G20 meeting when ministers will hold a burdened agenda including also Euro-zone's recession and debt crisis with its latest victim Cyprus and possibly Slovenia round the corner.
Lorenzino arrived in the US joined by the Secretary and the deputy Secretary of Finances Adrián Cosentino and Víctor Fuentes Castillo and Deputy Cabinet Chief Analía Tello among other officials.