Argentine Catholic Church criticism of judicial reform triggers ironic statements from Senator
Friday, April 19th 2013 - 05:33 UTC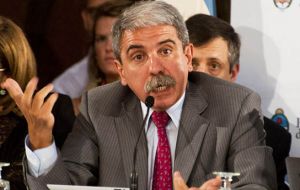 The Cristina Fernandez administration renewed relations with the Catholic Church, since the naming of Cardinal Bergoglio from Buenos Aires Pope Francis could be facing their first challenge because of the controversial judicial reform the Argentine president is pushing through congress.
One of her most outspoken Senators and former cabinet chief, Anibal Fernandez blasted the Catholic Church's criticism of the justice reform considering it a position "riddled with inaccuracies" while he added that bishops' statements are a "severe mistake".
"Every time the Episcopacy gets involved in terrestrial affairs it makes a severe mistake. That old saying Give to Caesar what belongs to Caesar, and give to God what belongs to God should be recalled" Senator Fernández stated.
Staying true to his style, the ruling party lawmaker wondered ironically if the current dispute with the president of Argentina's Episcopacy José María Arancedo over the judiciary system could lead to his appointment as Pope.
"I might turn him into Pope. I once had to argue with another Argentine bishop" Fernández joked in reference to Pope Francis with whom he clashed with several times when ex cardinal Jorge Mario Bergolio still headed Argentina's Episcopacy.
On Tuesday, almost a hundred bishops that attended the Plenary Assembly of the Argentine Episcopal Conference (CEA in Spanish) urged the government to gain prior "debate and consensus" in order to pass the justice reform project.
The Catholic leadership issued the statement "Justice, Democracy and National Constitution" alleging that a "quick address" of the bill could "weaken Republican Democracy" and calling for the protection of "powers' autonomy".