Falkland Islands' Sea Lion project will demand 5bn dollars and first oil is expected 2017
Friday, April 19th 2013 - 06:24 UTC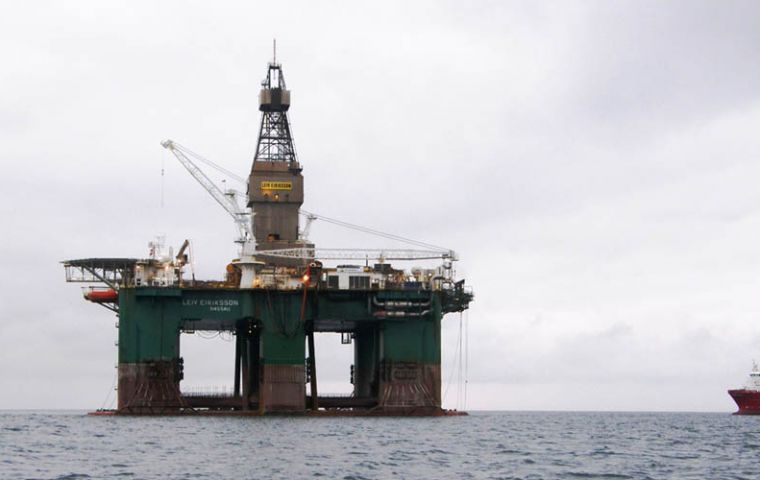 UK independent oil and gas Premier Oil company said that the Falkland Islands Sea Lion project is one of their biggest operations undertaken to date involving an investment of 5 billion dollars with first oil expected sometime in 2017.
An update on the Sea Lion project, a farm-out of Rockhopper Exploration was provided by Premier Oil at a public presentation this week in Stanley.
"The Falkland Islands are a key part of our ambitions for the future with the Sea Lion project, the biggest undertaken to date" said Ken Humphrey of Premier Oil at the very well attended event.
It is currently estimated that the Sea Lion field has recoverable oil resources of between 300 and 350 million barrels.
The development drilling phase will take several years with up to two rigs working on location. The construction phase of the Sea Lion field will take four years with first oil expected in 2017.
Preliminary site work has taken place regarding the possible construction of a temporary bundle building facility. However Mr Humphrey stressed that a decision has not been made and that different options were being considered.
It is also anticipated that the project will require a total lay-down area of around 220,000 square metres with Mr Humphrey saying that discussions are underway on this issue.
Mr Humphrey said that "2013 will see work continue on technical studies and engineering and logistical support and infrastructure options".
It is expected that in 2014 a field development plan will be presented. With first oil expected in 2017, Mr Humphrey said that "the development of the Sea Lion field by Premier Oil would be a 5 billion dollars project with thousands of people around the world involved".
Mr Humphrey also underlined Premier Oil's commitment to the Falklands wishing "to maximise the opportunities for local businesses, maximise the opportunities for local skills development and minimise any negative impacts on the existing rural, fisheries and tourism industries".
Last October the Falkland Islands government approved changes to Rockhopper's production licence interests to permit the assignment of 60% of Rockhopper's licenses to Premier Oil and the approval of Premier Oil to become the operator of the licenses.
Premier said it would partner Rockhopper paying an initial 231 million dollars in cash as well as providing around 770 million to help build infrastructure for the development of the Sea Lion field 2010 oil discovery in the north Falkland basin.
The independent oil and gas company also has interests and operations in Indonesia, Norway, Pakistan, Mauritania, UK and Vietnam,