Argentines expecting inflation above 30% for the next twelve months
Saturday, April 20th 2013 - 08:32 UTC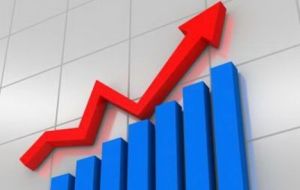 Argentines are expecting an inflation of 34.2% in the coming twelve months according to the average from a monthly report released by a prestigious private university research centre based on surveys,
Expectations were up 0.7 percentage points compared to the March release (33.5%) from the Finance Research Centre, CIF belonging to the Torcuato Di Tella University and supported with regular surveys from Poliarquía considered among the most reliable of Argentine pollsters.
The average survey shows that Argentines believe that the projected inflation remains steady at 30%
"Considering the average of replies, inflation expectations for the next twelve months offer very significant variations in the capital, Buenos Aires City, where they increased 6.3 percentage points", said Guido Sandleris, head of CIF.
"In metropolitan Buenos Aires and the interior of Argentina, inflation expectations showed more modest variations", he added.
The inflation expectations survey for CIF done by Poliarquía is based on 1.200 cases covering the whole of Argentina during the first half of March.
According to Argentina's very much questioned official stats office Indec, in the last twelve months to March, inflation stood at 10.6%, but private reports released by opposition lawmakers indicate that consumer prices have risen almost 25%.
According to Argentine economists and market analysts lose monetary and fiscal policies are the main source of inflationary pressures in the economy.
Last February the IMF executive board censured Argentina for failing to meet its reporting standards for economic data. The Fund called on Argentina to address the 'inaccuracy' on its data on inflation and GDP no later than September 29.