Cartes invites the opposition to work with him and sends message to Brazil
Monday, April 22nd 2013 - 07:49 UTC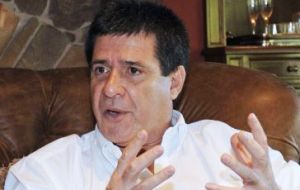 In his victory speech Paraguay president-elect Horacio Cartes said he expects to win the confidence of all the Paraguayan population and called on the opposition to work for the good of the nation. He also had a direct reference to the neighbouring giant saying he wanted to work with Brazil, a 'brother-country'.
"Paraguay is the great winner today and my commitment is with all Paraguayans in the republic", said Cartes Sunday evening addressing a celebrating crowd outside the Colorado party headquarters in the capital Asunción.
Wrapped in a Paraguayan flag and feeling extremely moved, he had to interrupt his speech several minutes, Cartes then invited "the opposition to work for the nation. We want a Paraguay for all, no discrimination because of colours or parties".
His main rival and runner up Efrain Alegre, a solicitor and former Public Works minister of the Fernando Lugo administration said the electoral process "had been transparent and adequate; the Paraguayan people have spoken and we respect that. We made an extraordinary efforts but it was not possible (to win)".
The only incident reported was a statement from the Vice-president of the Superior Electoral Justice Tribunal, Juan Manuel Morales who three hours before balloting was over 'anticipated' the Colorado victory. 'Results indicate an irreversible tendency'. But the president of the tribunal, Alberto Ramirez Zambonini, later 'disqualified' the statement.
President-elect Cartes also sent a strong message to Brazil, Paraguay's overwhelming neighbour and 'protector', which he described as a brotherly country with which he and his countrymen want to work with.
"People want to work with Brazil. Paraguay has everything to sit at the table next to Brazil, a brother country to work together", said Cartes.
"We have the world's largest hydroelectric complex (Itaipú) with Brazil, we have many Brazilian industries here which I think is very useful for Brazil because they are producing with the energy cost of Paraguay", pointed out the president-elect.
Relations with Brazil have been strained since the removal of Fernando Lugo following the impeachment by the Paraguayan Senate. On June 22, Brazilian ambassador Eduardo dos Santos was recalled to Itamaraty (Foreign ministry) and never returned to Asunción.
Further more Dos Santos has been named Secretary General of the Foreign ministry and the Brazilian government has said it won't present the credentials of the next ambassador until the new Paraguayan elected government takes office in August.
"Nowadays borders are falling and we need all countries to be integrated, in Mercosur, in Unasur. Paraguay, my government for all Paraguayans is ready for that", concluded Cartes.