Colombian president moves to eliminate consecutive re-election
Monday, April 22nd 2013 - 08:30 UTC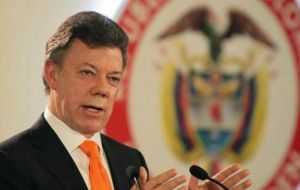 Colombia's President Juan Manuel Santos has signalled he may run for re-election in 2014, but only if he can serve for just two more years, half the usual term, and change the rules for future heads of state.
Santos has refused to comment on his plans until the second half of 2013, but analysts say the tone of his appearances in recent months have smacked of a man already on the campaign trail.
"If I run for re-election, the next presidential mandate should be only for two years and, from then on, six years without re-election," he said in the coastal city of Cartagena. "We'd have to look at the constitutional implications," he told a meeting of local mayors.
He did not explain why he wanted to change the amount of time a president can stay in office, or to end a president's right to stand for re-election for one consecutive second term. Both would require constitutional changes that would have to be approved by Congress, where Santos' allies have a majority.
His proposal signals a change from the prevailing re-re-election tendency in South and Central America, sponsored by populist governments.
The 61-year-old must declare his candidacy six months before a May 2014 election, (November), but weak poll numbers mean he probably needs to start gaining momentum now.
A poll by Invamer Gallup released in February showed Santos with 44% of support, the lowest since he took office in August, 2010.
Santos won that vote by a landslide thanks in part to the support of his ex-boss, former president Álvaro Uribe, who is now the de-facto head of the opposition.
While Santos came to power promising to maintain Uribe's tough stance against Marxist rebels, the former defence minister took the biggest gamble of his political career when he began peace talks in November with the Revolutionary Armed Forces of Colombia, known as FARC. If peace talks succeed, Santos's re-election would be all but clinched.
The main challenger next year will likely be an ally of Uribe, who is still popular for his blows against Marxist rebel groups that made Colombia much safer. He is increasingly critical of Santos.