More praise from Mujica to Cristina Fernandez stubbornness and determination
Monday, April 22nd 2013 - 08:13 UTC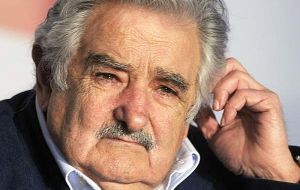 President José Mujica said Uruguay "must always talk and maintain close relations with Argentina" following the recent controversy that flared up when he was caught by an open microphone calling Argentina's Cristina Fernandez "the old lady" and her deceased husband Néstor Kirchner "the one-eyed."

In statements to media in Venezuela, where he attended Nicolás Maduro's swearing-in ceremony Mujica considered that Argentina's economic decisions must be analyzed under the scope of the country's 2001-2002 collapse and default.

"Buenos Aires", he said, "is still paying for the effects of that crisis" forcing the government "to take measures that might affect Uruguay".

"We must be among the few Uruguayans who stubbornly defend the relation with Argentina regardless of the government that rules it," Mujica added and explained that the economic ties between Montevideo and Buenos Aires go beyond "trade" as many Argentineans decide to "live, visit and buy" in Uruguay and "boost real estate investment."

Mujica also made reference to the relation with Argentina's president Cristina Fernández after the "old lady/one-eyed" row. Both leaders met again when they flew together to Caracas for Maduro's presidential inauguration on board of Argentina's Tango 01 presidential aircraft.

"To manage such a country, the Argentine President has a dilemma between stubbornness and determination," he said and went on to agree that "Cristina Fernandez' firm nature allows her to rule Argentina".

In related news, Senator Lucía Topolansky and wife of President Mujica, denied that Uruguay is currently a "tax heaven", crediting the efforts of the current president to disrupt the previous financial structure.

Topolansky criticised the Argentine journalist Jorge Lanata and called his recent report about Uruguay and money laundering "a real shame". She accused the journalist of inaccurate information and explained "it is impossible to deposit or withdraw a million dollars in any Uruguayan bank without knowing its origin and doing a lot of paperwork".

The First Lady assured that the Uruguayan government has effectively dismantled the banking structure from previous administrations through the "new Central Bank regulation" which has proven "very successful".

Senator Topolansky underlined that "previous governing parties wanted to transform Montevideo into a financial centre like Luxembourg, or the Bahamas or the state of Delaware".

"After the crisis in 2002 when Uruguay's economy suffered the spill over from Argentina, the government of the time started to dismount the old structure (which was based in a majority of foreign deposits from Argentina), put new Central Bank regulations in place, joined the banking data exchange system, has signed a number of bilateral agreements to that respect and now we have a completely different and transparent organization" Topolansky pointed out.

"What Lanata insidiously described, I want to imagine out of ignorance, could have happened in Uruguay ten, fifteen years ago. But no longer, controls are very strict and we have a whole system, established on international standards to detect any suspicious movement or transfer of capital" added the Senator.

"Argentines, who were the main beneficiaries of such practices, are well aware that that is no longer the case and this is clearly confirmed by the volume of non resident Argentine deposits in the Uruguayan banking system, nowhere near I repeat ten, fifteen years ago. I regret what Lanata said about Uruguay because it will backfire on him", concluded Topolansky.